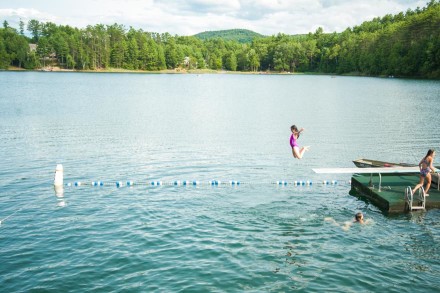 We are excited to say that we are Private Family Tours in Summer 2021 for prospective families, in a safe and socially-distanced way.  We will continue to take guidance from the American Camp Association, NY Department of Health and other governing bodies to conduct tours in a safe and healthy way.
Summer tours are conducted daily while camp is in session, the only exceptions being opening weekend, Parent's Visiting Day weekend and closing weekend of camp.
Approximately 90 minutes long, tours are an ideal way for families to get a sense of what Echo Lake is all about. During the tour, you will have an opportunity to see camp in action, and spend time with our Directors, Tony Stein and Laurie Rinke.
Because we conduct private tours for each visiting family, our tour schedule fills up every summer. Please call us as soon as you know when you would like to visit so that we can give you a time that is most convenient for you.
For more information about your visit please see below.  If you are interested in booking a tour this summer, please call us at 518-623-9635. 
Another great way to experience Camp Echo Lake, which will return in Summer 2022, is S'more Camp.  S'more Camp, a hands-on experience for the entire family, is available to new families with children entering grades 1-4 in 2022. The visit includes three activity periods for your child(ren), a tour for parents, evening lineup and a BBQ /campfire for the entire family.
Explore the Adirondacks
The Adirondack Mountains have a lot to offer beyond picturesque beauty: fine dining, fun family activities, world class hiking, abundant lakes and rivers and a magical hometown environment. The shops of Lake George are just 10 minutes away from camp, and just a half hour south from us is the Saratoga Performing Arts Center and the Saratoga Race Course.
We invite you to explore the exciting and fun options that the Adirondacks have to offer:
Driving Directions
Click here for driving directions.
Accommodations
Diamond Point and Lake George are both 10-15 minute drives from camp. Glens Falls and North Creek are both 20 minutes from camp. Saratoga Springs is 30 minutes from camp. Area lodging is listed below or visit any of the above websites for more information.
Warrensburg
Diamond Point/Bolton Landing (15 min NE)
Glens Falls / Queensbury (20 min SE)
North Creek (25 min NW)
Lake George (10 min SE)
Chestertown (15 min N)
Saratoga Springs (30 min S)