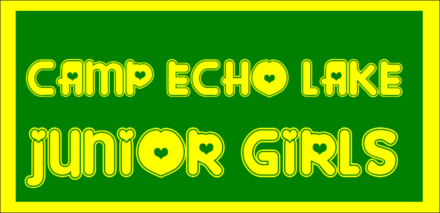 Week one seemed to fly by and I can hardly believe we are now beginning week two!
In the first week of camp the junior girls were just beginning to make connections and get comfortable with their surroundings.  Now all of the girls have established their new routine and adjusted to the everyday camp life!  Already, I have seen so many girls try new things, push themselves out of their comfort zones, and develop a new skill!  It is amazing all that can happen in one week at camp!
Some events that have happened since my last update are….
Tribal Break!
Tribal Break happened on Saturday night during the final dance of our Inter Arts show, performed by the LITs.  Everyone was surprised when whistles were blown and green and gold papers flew through the air.  All of the Junior girls found out what Tribal team they were on.  For Tribal, the bunks are evenly split between the green team and the gold team.  Although Tribal is a competition, we make a point of demonstrating good, positive, sportsmanship, and reminding the campers that Tribal is only to be discussed on Tribal day.  That is because Tribal, like everything else, reflects our community and values at camp.  At the end of the day we are all one big team.
Ho-Down
Our annual Ho-down event took place on Saturday in the Field House.  The band "The Fireflies" came to serenade camp and teach Ho-down dances.  All of the Junior girls got dressed in their best jeans and flannels and had a fun night of dancing with their friends among barrels of hay.  Everybody had a great time!
Tribal Tug
 Our first Tribal event took place on Monday.  Each division competed on the beach in Tribal tug of War.  It was great to see the Junior girls' strength and determination during this event.  To me, it demonstrated that they are truly buying into the spirit of camp and feeling connected to the community.  However, I truly feel the best thing I saw was after tug, when girls from different teams were congratulating each other and showing great sportsmanship!
Coming up…
Coming up this week is Group Sing!  Every group on camp has been practicing their own song and dance for the past week and will finally perform it on Tuesday night. This event is a great way for a group to bond and show off their character on stage!  This will be followed by our annual fireworks show over Echo Lake!  It doesn't get any better than that!