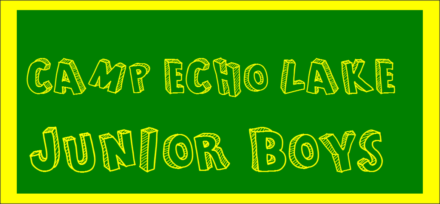 By Juan Delgado (Junior Boys Head Counselor)
Week 1 is in the books and what a week it's been. Tribal broke, we had a fantastic hoe down and boys camp created the first ever "Inside Out" Day.  Summer 2016 has gotten off to a great start!
Tribal Has Broken
After Friday Night Services this week the LIT's performed an amazing dance number that had the whole camp entertained. It was at the end of the dance that Tony stood behind the amphitheater and broke TRIBAL. Our junior campers were incredibly pumped, for a lot of them this is their first experience with the tribal war, so they had plenty of questions about strategy, chants, and teams. It was great to see this huge camp event through their eyes.
First Campfire of the Summer
The Frosh and Lower Juniors were treated to the first campfire of the summer.  Laurie did not disappoint by teaching the kids the arch of a perfect campfire: Start with an energizing beginning, enjoy a delicious middle, and complete it with a peaceful end. We were also able to teach them the BUBBLE GUM song, which the Frosh boys sang the entire next day. I'm also happy to report that all of the kids successfully completed s'morientation and are now certified to cook a perfect s'more!
Inside Out Day
On July 2nd we had our first ever Inside Out day at boy's camp. The day was inspired by the UJBW's very own Evan Rothman who started the trend.  All the main village boys had their shirts inside out and backwards which was hilarious to see, especially since we had a few tours going on.  Boys camp is all about celebrating our campers in every way we can!
Coming Up
This week we have Tribal Tug,  Group Sing and so much more!