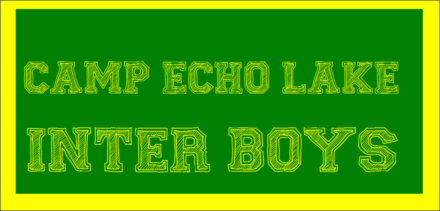 by Robert Cooper (Inter Boys Head Counselor)
Our second week of camp has been filled with so many awesome activities and exciting evening events. Both of our Lower and Upper Inter groups took part in our first Intercamps of the year against Southwoods.   Intercamps are an opportunity for our campers to compete in multiple athletic events against other camps. Our campers played extremely well in each sport, were great teammates during each game,  and humble in victory.
On Sunday night we had our annual Hoe-Down! It was great to see each and every camper break free and boogie!  I witnessed a lot of moments of growth during this short event.
Monday night commenced with our traditional Tribal Tug event.  Both Mohawk and Iroquois brought their enthusiasm and teamwork to the beach and battled for Tribal glory.  Both teams were super excited and really put forth their all.  While there were many ties in the Inter division, each team displayed great sportsmanship towards each other.
I believe the highlight of the week took place last night.  Group sing was such an amazing night where each group got to showcase their individuality and creativity through their very own group song, written by their counselors. There were so many notable performances and it was truly one of the most fun Group Sings of which I have been a part.  I witnessed so many campers step out of their comfort zone and face some of their fears of being on stage.  It was great to see their sense of accomplishment and relief upon completing their performance.  Our Upper Inter Boys had an awesome song and took runner-up, while our Lower Inter Boys East put on an amazing performance and won the division!  I was so impressed by each of the Inter groups' performances. It was such a close call.  We finished the night with an epic firework show that was a great ending to a great day.
Coming up this week, our Lower Inters are having our first campfire of the summer, and Saturday is our Upper Inter show Little Shop of Horrors!  I'm so excited for another great week and we have so much to look forward to.  The Inter boys are hitting their stride.  We are having a great start for what is sure to be a fantastic summer!