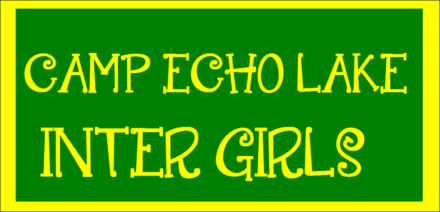 by Ally Begly
I think just about every blog of mine has started with a cliche about time flying, but I truly cannot believe we are over the halfway point to the summer.  When someone pointed out to me last week that Visiting Day was mere days away, I didn't believe them at first. How could parents already be arriving when it felt like camp had just begun?
So what is it about camp that makes the "days long but the weeks short," as we are so fond of saying in the HQs? I think it has something to do with a schedule that is regular but also punctuated with big events. This week was a great example of that. As you all of course know, Saturday was one of our biggest, most fun days of the year: Visiting Day! It was wonderful to meet so many of you and see you experience the joy of camp with your kids. As a head counselor (and former camper myself) one of the neatest part of the whole camp experience is seeing parents realize just how beneficial seven weeks at Echo Lake is for their child. Although it's a long time to spend apart, the connections campers make, skills they develop, and memories they make are truly life changing. Visiting Day is a chance for parents to see and be reminded of that fact. The Inter girls become so independent and confident over the course of the summer, and it is truly something special to witness.
Post Visiting Day is one of the highlights of the summer: Halloween. I think we probably go more all-out here than on the actual holiday. As I wandered around dressed as a ghostbuster, I saw football players, referees, cats, witches, superheroes, babies, and more. Not only did we put all that extra candy from Visiting Day to good use, but we had a great time being spirited and enjoying all of the Halloween activities the Lower Villagers had planned. The night was capped off by torchlighting, when the two themes (Astronauts and Archaeologists) were announced. I love the symbolism and the ritual of torchlighting. I still get chills down my spine every time I watch the torch bearers descend the hill toward the rocks!
After enjoying a late sleep on Monday, we were back to regular programming Tuesday. Wednesday was a day many of the girls had been waiting for since day one of the summer – Special Day! The staff went all out this year. LIGE had a day of Mardi Gras, LIGW threw a 100th birthday party for their counselors, UIGE had a party in the USA all day long, and UIGW celebrated a Bat Mitzvah. I heard girls from across multiple groups claim it was "the best special day EVER." The staff deserve a shout out for going above and beyond when it came to planning memorable events for their girls!
We had a few big evening programs this week, as well. We had a camp wide Lip Sync battle on Monday night, which was an absolute blast to watch. Tuesday, the LIGs went to putt-putt, and Wednesday, the UIGs went bowling. As always, I was impressed by the polite and respectful behavior of our campers off camp. They represent the Echo Lake name very well whenever we go on trips.
As we move into Week 5, we have many things to look forward to. Tribal Swim, Apache Relay, the Lower Inter Show, and a few more special events are all on tap. Since the weeks truly do fly by, we need to make them count!