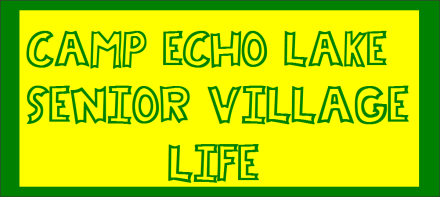 by Cal Meyers and Casey Linder
It's been another amazing week in the village! Both upper and lower village had a terrific week.  Upper Village had their Cape Cod Trip, while the Lower village enjoyed a spirit week and trip to the Saratoga County Fair.  Here's a little breakdown of both groups' week:
Upper Village Cape Cod Trip
Upper village spent the week on their trip to Cape Cod and Boston!  We arrived at Cape Cod on Monday and set up camp.  Our site had huge leafy trees to set up our tents under and a football field sized open area next to it for the campers to run around.  It made for a comfortable and cozy little home for the week.  We spent the first full day of the trip in Martha's Vineyard!  The campers stepped off the ferry and were blown away by the old, colorful architecture.  We spent the day in Oak Bluffs walking through town, stopping at local shops, and enjoying delicious local food.  Campers were able to ride the world's oldest carousel, shop at famous places like Vineyard Vines and Black Dog, and enjoy some lunch at Skinny's Fat Sandwiches.  After a short ferry ride and drive we ended up at Quincy Market in Boston for dinner.  We walked up just in time to see an escape artist performing ing the square.  What a switch from a small island town!  The market had just about any kind of food you could think of and it was a great way to finish off the night.  
The next day we took off from the Boston Museum of Science near MIT for a Duck tour!  The "Duck" is like an amphibious bus that took the campers from the streets to the seas.  The tour guides were hilarious and kept the campers enthralled for the whole journey.  After a picnic at the museum, we took a short jog over to the home of the Boston Red Socks for a tour of Fenway Park.  Everyone enjoyed learning about the history of America's pastime at America's oldest ballpark.  We finished the action packed day with a relaxing fire at the campsite with s'mores and smiles for all.
Our final full day of the trip started with a relatively late sleep and some campsite bonding for the early risers.  There were games being played like football, frisbee, ladderball, and spikeball as far as the eye could see.  We loaded up on the Wade Tour bus and headed to the Boston Aquarium.  It is truly a breathtaking experience to feel as though you are walking through the ocean.  We were able to see all manner of sea life on our tour through the depths!  Leaving the deep blue waters behind, we headed for Quincy Market for another round of mouthwatering fair and a bit of shopping.  Science stop number two of the day was the Boston Museum of Science.  We were able to enjoy a 4D film called "Frozen Planet" where campers were thrown into the arctic, both on land and in the sea.  From city to science and back again, the campers ended up at the Hardrock cafe for dinner.  To top off an action packed day we went to a show called Shear Madness!  The famous Shear Madness show did not disappoint.  The show was full of improvisation, hilarious acting, and the campers were even able to participate in the show!  Everyone left with sore abs and a smile on their face.  Back at the campsite, sleep came easy and fast.  We woke up the next morning and headed back to camp with excitement from the adventure we just had!
Lower Village Spirit Week
The lower village had their fair share of excitement, too!  The lower village boys and girls had all of Senior Village to themselves this week.  Group Leaders decided it would be a great time to throw a little extra excitement into the schedule.  Along with the campers' regularly scheduled activities, lower village also had a theme for each day this week.  There was Athlete/Rockstar Monday, Tacky Tourist Tuesday, Wacky Wednesday, Western Thursday, and Christmas in July Friday.  Each day was full of little games and presentations in line with the theme.  
On Monday, morning lineup got a boost with theme music and an ESPN theme.  In the afternoon they got a taste of the rock life with an open mic karaoke concert.  Evening Program was a 30 for 30 film about a famous athlete.  
Tuesday started off with a world trivia game complete with a splash to beat the heat.  After lunch they had a tourist themed scavenger hunt followed by a water obstacle course to finish off the day.  
Wednesday was wacky enough to feature a human ice cream sunday during morning lineup.  The kids covered a counselor in ice cream and all of the classic toppings.  There was a color war in the afternoon complete with paint, shaving cream, colored powder, and more.  There was crazy clothing and messy fun galore.  
Thursday's theme was western which worked out perfectly with our trip to the Saratoga County Fair!  As ranked by the campers, this was the best trip day so far.  We were able to get up close and personal with everything from tropical birds to butterflies to farm animals.  We watched Robinson's pig races, chainsaw competitions, and the Axe Women of Maine!  Of course, the campers loved the classic fair food like elephant ears, turkey legs, and deep fried everything.  Did you know that you can deep fry Kool-aid?  Campers even had time to enjoy some carnival rides at the midway.  This is definitely the first annual trip to the fair.
Spirit week culminated with Christmas in July on Friday.  Campers got to enjoy a little Mariah Carey Christmas music during breakfast. Lineup was heartfelt with candy canes. Campers handed out candy canes to others on camp to spread a little Christmas cheer. At night campers  decorated cookies and relaxed with a nice Christmas movie to wrap up an amazing week.  This week they are off to Vermont for their lower village trip!  
What a week!