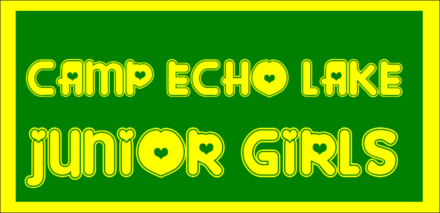 Week 4 on camp is well underway and the Junior Girls are having more fun than ever!  This past week was loaded with campfires, hiking, and TREK overnights galore!  It seems the days have been flying by since visiting day and the Junior Girls are making sure to revel in all of the fun!
TREK Fun!
The Junior Girls have had a lot of TREK related activities lately.  Both the LJGW and Frosh Girls had a TREK Overnight this week.  The TREK overnight consists of a trip to the Hudson to catch crawfish, a campfire with campfire stories, and even pizza making over the campfire before heading to bed in their tents.  Both groups did a great job at embracing the experience and therefore had a ton of fun!  The LJGE went on a hike on Thursday up Mt. Hackensack which is about 1.5 miles from camp. They were excited about reaching the summit and getting to see a different view of camp.  On Thursday the Frosh Girls went tubing down the Hudson River.  The girls thoroughly enjoyed their "float" down the Hudson!
Fun with George Steele
Echo Lake is excited to welcome George Steele to camp this summer.  George Steele is an environmental educator who works in the Adirondacks with multiple summer camps and outdoor education programs.  He leads a fascinating session which teaches us about all that is going on around us in nature.  He even brought along chicken eggs in an incubator which is currently located on Girls' Camp.  Each Girls' Camp group is responsible for helping take care of the eggs each day of the week.  They have all done an excellent job being attentive to the eggs, rotating them daily, checking the temperature of the incubator, etc.   The Frosh Girls even got to  spend some time with George Steele during their TREK overnight where he taught them about the birds found in the Adirondacks and their specific bird calls.
Campfires!
All of the Junior groups had their second campfire of the summer this week, complete with campfire songs, S'mores, and the story The Giving Tree by Shel Silverstein.  It is safe to say all of the Junior campers are campfire experts!
Lip Sync Battle
On Monday Night the entire camp participated in the first ever Echo Lake Lip Sync Battle.  Counselors from each division represented their groups on stage as they were cheered on by their campers.  Between each round campers were given the chance to guess lyrics in a song in order to win prizes for their group which also resulted in a dance party.  It was great to have the whole camp together and see the campers support their counselors. The campers seemed to be really excited about the event and have even been doing some of their own lip syncing routines in their bunks since.
Check back next week for more updates on the lovely Junior Ladies!