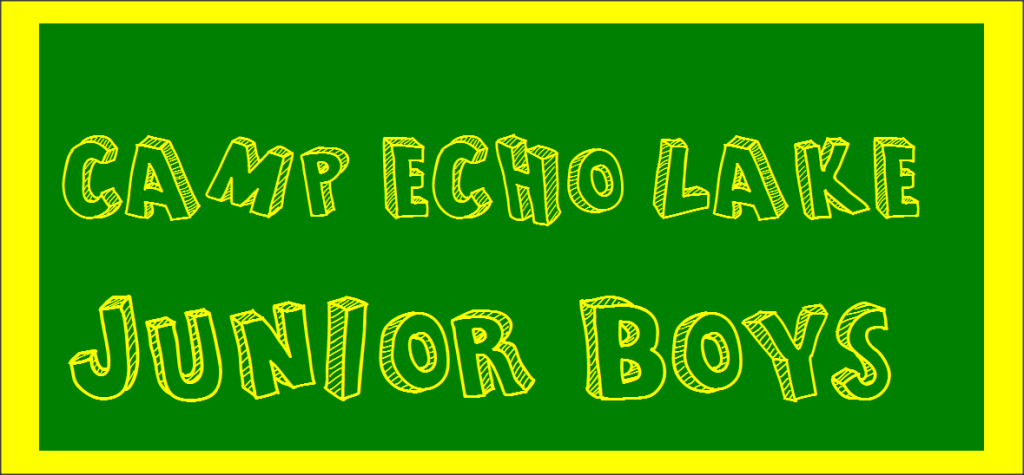 Junior Boys Head Counselor – Patrick McNeece
INSIDE THE ECHO LAKE STUDIO
All Main Camp campers participated in an activity that we call Inside the Echo Lake Studio. This event was such a success last summer when we introduced it that we had to make it happen again.  Each group of campers was given a movie title the day before the event. The catch is that they have to twist the plot to make it "Echo Lake" related.  The Frosh Boys came out victorious with their own version of Echo Lake's Toy Story.  It was incredibly creative and adorably executed.  All of the Junior Boys' performances were a success, and the boys had a blast performing with their groups!
This event was one of the first of the summer where campers and staff truly get to bond and display teamwork.  Campers were involved in writing, creating and choreographing their own team's performance.  Even with little time to prepare, each group was successful, which is a real sign of our staff's dedication to their campers.
LONGEVITY AWARDS
Our only all-camp event this first week was our Longevity Awards Ceremony on opening night. My amazing partner in crime here on Boys Camp, Matt Lemoine, received the prestigious "Lake Shirt."
CHALLENGE NIGHT
No inter-camp games took place this first week. However, we had our first Challenge Night on Wednesday evening.  The boys chose between ultimate frisbee, basketball and soccer.  The Junior Boys loved their first opportunity to get competitive against each other, and all three sports were a huge success.  The final soccer game of the evening went to a shoot-out.  The winner's court basketball game ended with a score of 18-14 after the lead was exchanged several times throughout the game.
For our younger campers, competition can sometimes be a tough challenge.  It's easy to celebrate a victory; losses are harder to understand.  However, our LITs played a massive role in making sure that each camper was recognized for his efforts, and really added a spark and positive spirit to the competitive evening.
RAINY DAY CREATIVITY – "GoNoodle"
The rain made us get a little creative during a few evenings of the first week.  On Wednesday, the Junior Boys were in the Rec Hall for an activity that I call "GoNoodle."  GoNoodles are a set of online sing and dance videos that campers follow along with as they get really active and silly.  GoNoodle is something that I used this past school year in my classroom.  It was extremely entertaining when my students seemed to need a "brain break."  Many groups on camp are now breaking into GoNoodle sing and dance in circles during snack time, so it really seems to be catching on!
WELCOMING NEW CAMPERS TO THEIR SUMMER HOME
With so many new campers in the Junior division, it's always a goal of mine to help each one to acclimate in their own way to camp.  I really like to get to know new campers as early as possible to focus on two things…
[1] Making sure that they have at least one connection to another camper. [2] Finding out what their interests are
My goal for this first week was to keep a close eye on the new campers to make them feel like Echo Lake is their home for the summer.
WRAP-UP
It's tough to pinpoint one particular event or activity that might have brought the group closer together.  Our program staff and activity specialists truly do an amazing job at tailoring their lessons to each age group so that they can be as successful as possible.  When we function at a high level, the boys always mesh well and groups get stronger.
COMING UP
Next week is the always popular Group Sing event for all campers in every division.