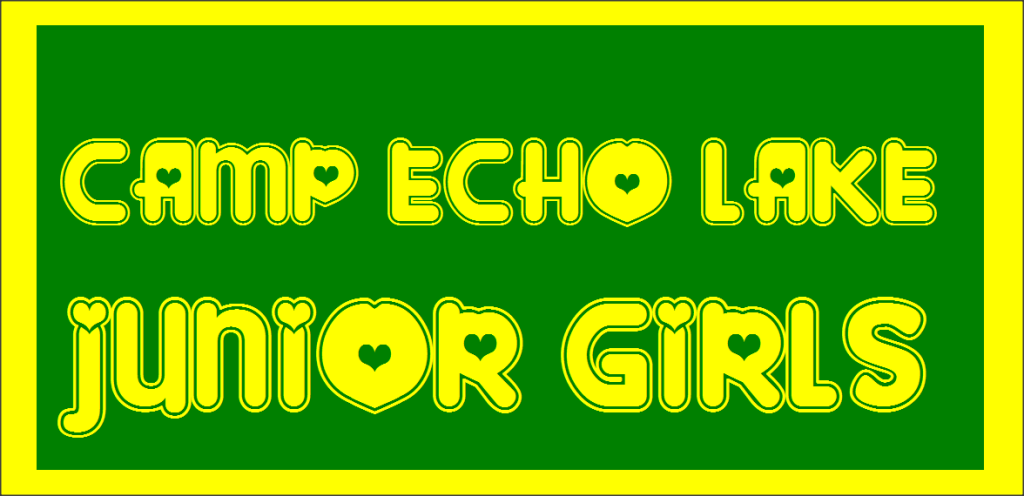 Junior Girls Head Counselor – Kelly Godzac
OFF TO A GREAT START!
The Junior Girls started camp off with a bang!  I have never seen a group more spirited, eager to try new things, and just genuinely excited to be at camp.  They have partaken in all that Camp Echo Lake has to offer including: tubing trips, waterskiing trips, and hikes up Mt. Hackensack.
It was fantastic to see the groups come together on only the second day of camp!  They collaborated to produce brilliant performances in the Amphitheatre.  There was a wonderful energy in the air and a lot of supportive cheers and clapping for each group.
FLASHLIGHT SING / LIP SYNC CHALLENGE
The Frosh Girls and Lower Junior Girls also took part in their first Flashlight Sing hosted by Tony Stein.  In Flashlight Sing, the girls compete in groups and sing songs with different themes.  The group that sings a song the quickest (and with the most spirit) receives the most points.
The Upper Junior Girls participated in their first lip sync challenge.  Each bunk got to choose a song to lip sync to and perform on stage.  They showed that they are all wonderful performers.  It was great to see the campers thoroughly embrace this challenge on stage!
A "CAN-DO" ATTITUDE / A GREAT SUPPORT SYSTEM
This past week, the Junior Girls began to really develop… cheering one another on, reaching out to new campers, and pushing themselves to try new things.  The maturity that I have witnessed from the youngest girls on camp is mind-blowing.  If I had to describe the Junior Girls with one word right now, it would be "supportive."  The friendships that have formed in such a short time speaks a lot to the exemplary character that they have all displayed.
Watching the Junior Girls participate in special events really brought to light their true character.  They all showed that they were willing to try anything, whether it is hiking up a mountain or performing on stage, while showing a lot of spirit and giving their best effort.  I was impressed to see the girls fully support each other during this endeavor.  Along with their counselors, they are each other's biggest cheerleaders and support system.
INSIDE THE ECHO LAKE STUDIO
This past week, the entire Main Camp participated in Inside the Echo Lake Studio.  Each group was assigned a movie that they had to perform with only a few minutes to prepare.  Extra points were awarded for relating their performance to Echo Lake.
WEATHERING THE STORM WITH ENTHUSIASM
This past week, during the rain, one of our outdoor evening programs was rained out.  However, we quickly threw together a trivia night, and all of Girls Camp participated in with complete enthusiasm.  They answered questions about Disney, camp "contraband," and of course Echo Lake.  It was amazing to see what some of our new campers already knew about the history of Echo Lake.  There was also a dance party between rounds.  It turned out to be a really fun night, demonstrating that, as long as we are all at camp together, it is impossible not to have fun. The girls did not allow the rain to bring them down this week at all!
JUNIOR GIRLS GOAL
It is my goal for the Junior Girls to continue the supportive environment they have developed within the first week of camp.  They are all upholding the values of Echo Lake, trying new things, doing their best, and being great friends to each other.
COMING UP
Next week, we have Group Sing. This is where each group writes and performs a song that pertains to their group and Camp Echo Lake.  We will also have fireworks, the hoedown, and our first inter camp.  I am excited to see the Junior Girls continue to bring their energy to the stage and the field this week.