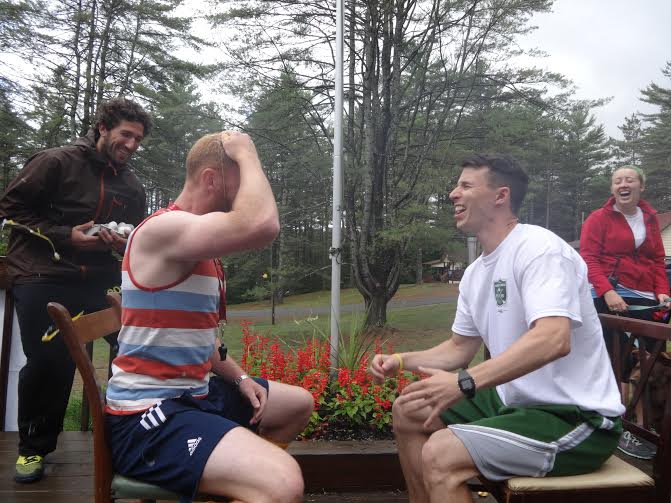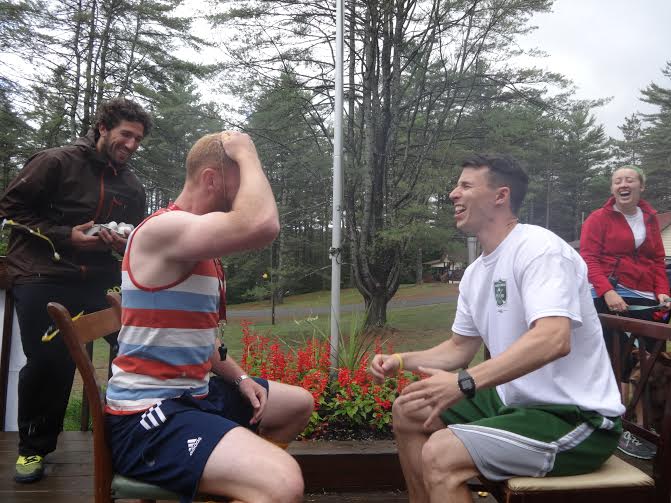 You can take the boy out of Echo Lake, but you can't take the Echo Lake out of the boy.  It's not just campers who find it so difficult to eventually leave their summer home in Warrensburg behind.  After three summers as the Soccer Head Specialist, and two summers as the Senior Village Program Coordinator, the Italian-born, "kissed by fire" bearded Stefano ("Stef") Antoniazzi was unable to commit to another full summer at Camp Echo Lake, but he will be spending as much time as possible here helping out with the LITs.  He already made his presence felt at Senior Village morning lineup, going head-to-head with Jon ("JOB") O'Brien (SVB Head Counselor) in a Jimmy Fallon-inspired game called "Egg Roulette."
When JOB asked for a challenger for the game, Stef (in a manner as bold as his Yukon Cornelius-esque beard) shouted that he would accept the challenge.  The rules of "Egg Roulette" are quite simple.  Each contestant must take whichever egg they touch and smash it over their own head.  Most are hard-boiled, but three are raw.  The first one to "scramble" two eggs loses.
No longer a member of Senior Village, Stef (pardon the pun) "hatched a plan" to level the playing field and take away JOB's home-field advantage.  Dressed in patriotic red, white and blue, an army of LITs were lined up and ready to charge (Braveheart style) upon receiving the signal from the audacious challenger.
On a dreary, grey morning, Senior Village came to life when Stef blew his whistle several times and the LITs rushed in to join the morning lineup, loudly chanting "STEF…STEF…STEF!"  Not to be outdone, JOB prompted Senior Villagers to offer a show of support.  "J.O.B. … J.O.B. … J.O.B.!" chants quickly followed, creating a WWE atmosphere for this "friendly" competition.
The first few eggs were hard boiled for each contestant.  Stef was the first one to smash a raw egg over his head.  JOB was momentarily clean, until Stef decided to "share" some egg with his opponent.  JOB cracked the next raw egg, leaving the contestants tied.  Though he did everything possible to take away the home-field advantage, Stef ultimately ended up with egg on his face as he cracked the last raw egg over his head.  JOB emerged victorious in this energetic and fun start to the day!