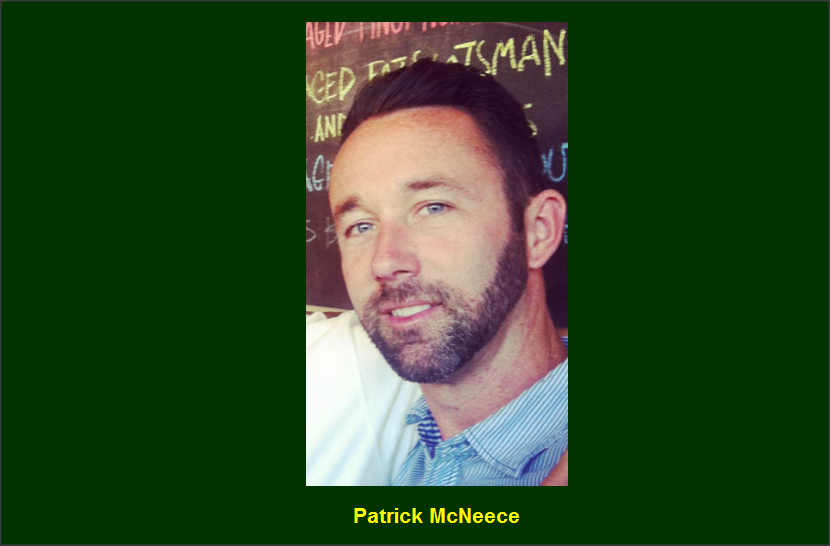 Patrick was born on Long Island and raised in Florida, where he resides today, and works as a third grade math and science teacher at Eagle Arts Academy.  He is also the founder of an iPad learning program called "BrainiApps."  Patrick's goal is to help fellow teachers incorporate iPads into their lessons by designing custom iPad programs and projects, and eventually making all of his own lessons available as well. Aithough "BrainiApps" keeps him very busy when he is not teaching, Patrick is very much looking forward to returning to Camp Echo Lake for his tenth summer.

After four years as the Inter Boys Head Counselor, Patrick has taken on the same role for the Junior Boys (age 11 and under) for the past four summers.  He is still very involved with the Inter Boys as he and Matt LeMoine (Inter Boys Head Counselor) work as a team to make sure that everything runs smoothly in Main Village.

Patrick prides himself on being able to mold his staff by modeling the best way to work with kids, while incorporating Camp Echo Lake's core principles.  He uses a teamwork approach to help teach his campers in a fun and entertaining way, and strives to keep them laughing as much as possible.
 


How many summers have you spent at Camp Echo Lake, and what brought you here in the first place?
This coming summer will be my 10th at Camp Echo Lake.  I researched summer camps online years ago and did several phone interviews. I was interviewed directly by Tony because JP and Laurie weren't available that day.  Meeting with Tony definitely had a big impact on me because of his passion and his description of the job and the camp in general.  He made it very easy to choose Echo Lake over all other camps.


What was your childhood camp experience like?
I went to specialized sports day camps but never experienced a sleepaway camp like Echo Lake.


What do you believe makes Camp Echo Lake special for campers and staff?
Camp Echo Lake is focused on instilling positive virtues in the campers and members of the staff. I love the fact that there is something for everyone, from the athlete to the artist.  There is more of a focus on skill development and effort than there is on competition, but our athletic campers will find that there are more than enough opportunities to compete and keep them engaged.

I feel very fortunate to be a part of the head staff because it has given me the opportunity to see the work that goes on behind-the-scenes. The detail that goes into operating such a high-functioning community of 800 people is really quite amazing.

One of the things that I love about Echo Lake is that there is always a concerted effort to improve from summer to summer, even though we already operate at a very high level.


How do you spend the 10 months waiting for camp to start?
I spend my 10 months waiting for camp teaching third grade math and science.


What are your hobbies?
I like playing the guitar and just about any sport, but basketball is my definitely my favorite.


What are your favorite Echo Lake activities?
As far as activities are concerned, I enjoy playing basketball, tennis and flag football.
My favorite events are Carnival and Friday Night Live, and I always look forward to campfires!


Please share a fond memory or two about Camp Echo Lake:
I have done "The Great Pike" twice and have so many memories of paddling, climbing, and camping.  The thing that I love most about "The Great Pike" is that is provides a unique opportunity to connect with a smaller group on a different level.  The campers that are chosen to go on the trip are hand-picked by the Trek staff and Group Leaders.  It is a physically demanding three-day trip, with canoeing, hiking and camping, but there is nothing like the bonding that takes place and the change of scenery that you get to experience by sleeping on an island.

I am proud to say that I am also one of the co-creators of "glamping."  I really enjoy the outdoors, but my fiancée isn't quite as into it as I am, so she sent me an article that she found in one of her magazines about something called "glamping" (glamorous camping).  The article talked about the bottles of champagne and air conditioned tents that were used while "glamping." Obviously, I couldn't (nor would I want to) reproduce this "glamping" experience, but Matt LeMoine and I created our own version for a group of boys that hit a bit of a rough patch and needed something to help lift their spirits.

We set up a big projector at the lake so that the boys could all watch Ratatouille together.  With hundreds of pillows to make them comfortable and chilled bottles of Fiji water inside champagne buckets, the boys got to experience our version of "glamping."  It was kind of a spur-of-the-moment idea, but it was a tremendous success, and we hope to do it again this summer.

In addition to being the co-creator of "glamping," I am also the co-creator (with John JP Pezzolla) of "ZAP!" lemonade.  We made our first batch of lemon water loaded with sugar at a Boys Camp event.  We came up with crazy slogans together and made a bunch of signs to help promote our invention.  It was an instant hit!  Making "ZAP!" is a lot of work (and a lot of sugar), so we only do it for special occasions (Carnival, MLB day and a Boys Camp Event).