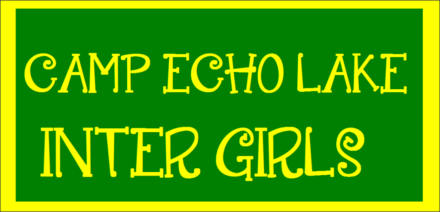 Girls camp has really hit our stride this week, making our presence known all around camp. There have been numerous inter-camps both on camp and off such as tennis tournaments, swim meets, basketball games, and softball too! This week, we focused on making positive and kind contributions to the echo lake community. Girls camp was challenged to have every camper complete 5 intentional acts of kindness all around camp. This continued spirit from the inter girls has been such a pleasure to be around in these past two weeks.
The fun continues all day into evening program, where the inter girls have gotten to participate in Echo Lakes very own escape room, campfires, making music videos, and flashlight sing! We are also in the process of coming up with a new girls camp cheer (as if we don't have enough already!) The Lower Inter Girls East have had the cleanest bunks this week, and while they may not know this yet, they will be having an ice cream party to celebrate! The Lower Inter Girls West had their trek overnight where they got to sit by the fire, make s'mores, and tell scary stories! The Upper Inter Girls went to the Fun Spot for a night of mini golf!
With Visiting Day quickly approaching, girls camp is getting ready to greet our families with the biggest smiles on our faces! We cannot wait to show everyone the place that we love most. Getting to share it with all of you is pretty special!
Until next week….
Casey