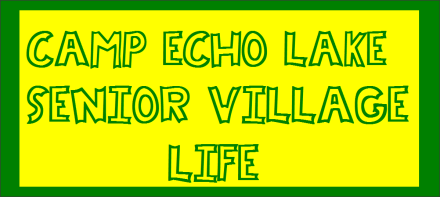 It was a fantastic second week in the Senior Village!  The sky literally opened up and poured sunshine down upon us, which was a welcome change after last week's rain and storms.  Having that sun coupled with mild temperatures was a recipe for success.  The first full week of activities were a blur of excitement and fun.  We are so excited to see such a consistent positive vibe radiating through the Senior Village.
Our Senior Village trip (Lower and Upper Villagers) this week was Great Escape Water Park! The day started with a late sleep followed by a lovely brunch.  We loaded the buses with a little rain falling on our heads, and a little worry about it plaguing us the rest of the day, but to our delight as soon as we got to the park the clouds parted and the villagers enjoyed a day full of lazy rivers, funnel cakes, and waterslides in the sun!  What an awesome day for all!
We have had several exciting Evening programs this week.  Our Survivor theme for the Village is fueling camp spirit at these events like I haven't seen in years!  The biggest night of the week was July 4th when Tribal 2017 broke.  After the fireworks finale, a huge green I (Iroquois) and a big gold M (Mohawk) lit up the lake and Tribal 2017 was on!  The next day we had tribal tug for an evening program.  We are so psyched every year to see the villagers put every ounce of strength that they have into that battle.  We can't wait to see this energy carry on into week 3!