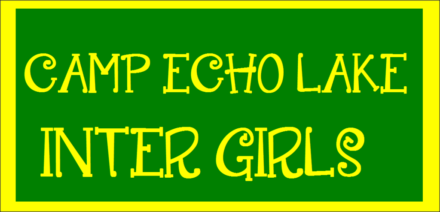 Week 2 has been one for the record books. From Inter Camps to Group Sing to World Cup, the Inter Girls have poured their hearts and souls into everything that they have done. At camp, we value the concept of effort and trying hard at all activities, taking initiative and giving 110% energy to everything we do. The Inter Girls have been role models for Echo Lake and showing what it looks like to put a lot of effort into Echo Lake all the time!
When the Inter Girls took the stage for Group Sing, they made performing look effortless. But we know how hard each of the groups worked to perfect their performance. The Lower Inter Girls took the stage AND first place with the song, "I'll be there for you." It was so catchy that I STILL have the lyrics in my head. Next, the Upper Inter Girls East brought their spirit, energy and smiles with a performance to Shawn Mendes. Lastly, the Upper Inter Girls West united as they sang a medley of songs and got quite a few laughs from the audience with some funny lyrics. Overall, the night was a huge success because of how hard the girls worked together. Inter Girls Pride!
Throughout the course of the week, the Inter Girls have been competing in numerous athletic challenges. At camp, we stress the importance of trying new activities and trying hard. You don't have to be the best at a specific sport in order to do well. All that matters at the end of the day is that you tried your best and put effort into each activity. Both the Upper and Lower Inter groups this week had Inter Camps, where they worked really well as a team and led Echo Lake to victory! In addition to Inter Camps, we have also had a swim meet, a soccer tournament, and tribal group games, where campers participated enthusiastically and gave each activity their all!
In addition, the Upper Inter Girls performed in the play, "You're a Good Man Charlie Brown." The performance was absolutely spectacular. Each girl took time out of their schedules to practice and rehearse for the play…and you could tell! The show captured the attention of the entire camp and many were moved by their excellent voices, compelling expression and dedication to their characters. Kudos to the cast of Charlie Brown!
Overall, Week 2 has been jam packed with extra fun activities like Hoe Down, Fireworks, and more! The summer is already flying by and I wish we could press pause so the summer doesn't pass before our eyes. The Inter Girls are really owning their role as leaders of main camp and I can't wait for week 3!