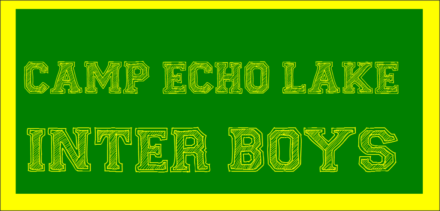 It was another great week at Camp Echo Lake for the Inter Boys!  We had a very busy second week of camp with many events that the boys were pumped to participate in.  We began the week with both of our Lower and Upper Inter groups competing in an exciting Intercamp versus Southwoods.  We continued with our annual Hoe Down in the Field House.  Yeehaw! Needless to say, it was great seeing everyone dressed in their western wear while dancing to the classics played by the Fireflies!  On July 3rd, the entire camp participated in Off Track Betting, wagering money on races conducted by the Head Staff.  The Inter Boys were very eager to wager large amounts.  While some teams lost their "Steinbucks" early, two Inter groups lasted until the last round.  Such a fun night!
Another major highlight of the week was Group Sing and the 4th of July Fireworks show on the lake.  All of the groups did awesome in Group Sing and represented the Inter Boys well.  The fireworks were amazing as always, but they were bolstered by a fantastic TRIBAL BREAK!!!!!  All of the campers were surprised by the Tribal break and were really enthusiastic about finding out whether they were Mohawk or Iroquois for the summer. Let the games begin!
The Upper Inters closed out the week with a trip to Pirate's Cove for some great "putt putt" action!  The Lower Inters got to feel the magic of Stew's Stupendous Scavenger Hunt!  The hunt took them all around camp working together to solve clues in order to find the hidden fuzzy.  The boys continue to amaze me with their passion for camp and the camp activities.  There could only be one winner, but all three of the remaining groups wanted to finish the hunt, even though it meant that they would only have walk through canteen. I was so proud of them for working hard and getting the job done!!  Way to go Inters!!!! Stay tuned for more Inter fun in the next week!