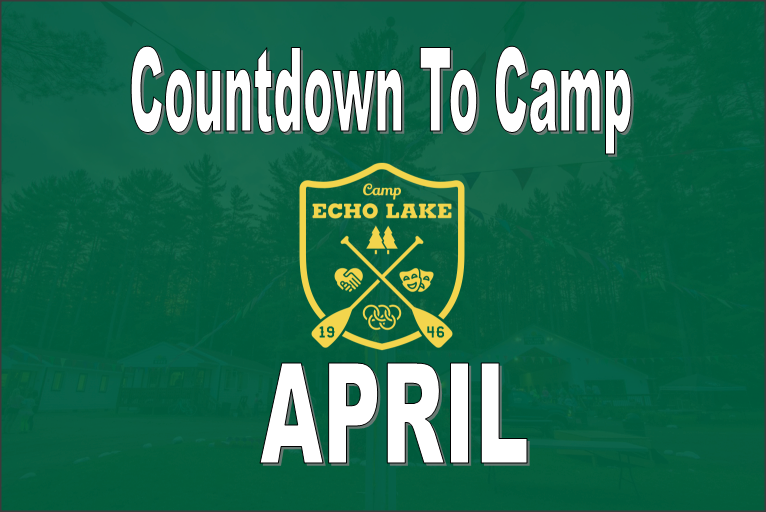 COUNTDOWN TO CAMP – APRIL
We hope that your April started off great!  As promised, here are important dates, reminders and helpful hints to guide you in preparing for the summer ahead.  As always, if you have any questions, feel free to contact us in the office and we'll be happy to help!
Be sure that your calendar is marked for April 22nd (New Parent Night) and May 7th (New Camper Picnic).
You should have already receive an email with links to the suggested Packing List and Camp Spot Online Catalog. Please make sure to review it and contact us if you have any questions.  The sooner you purchase any items, the sooner you'll receive them.  **The Packing List is available on the Parent Dashboard and you can find the Camp Spot Online Catalog at www.thecampspot.com.**
Hopefully, you have already made an appointment with the doctor for your camper's medical check-up. Make sure that you also track down your child's immunization record so that you can input it into the Immunization Form on the Parent Dashboard.
You should be already reserving your lodging for Visiting Day 2015. Check out the information included on CEL Families Staying Local.
All new campers should have received a letter in the mail from your Camp Big Brother or Big Sister. Make sure once you receive your letter from your 'Big' that you write them back.
2015 LITs – remember to mark your calendars for the May 3rd LIT Training Day at Breezemont Day Camp.
You have already received an email with a link to the updated Parent Handbook with new information for 2015, and a link to the Parent Dashboard where you will find all of the Camper Forms. Forms are due by May 1st. Most of the answers to your questions can be found in the Parent Handbook, which is on the Parent Dashboard.
You should have already received information about the Camp Echo Lake Tennis Academy and signing up for Private Lessons. If you are interested in signing your child up for private lessons, please click on the link in the email that we sent you or call the camp office.
For campers who play ice hockey at home, be on the lookout for information about opportunities to have ice time during the summer.
If you are not currently subscribed to The Trail (formerly know as the Camp Echo Lake Blog), be sure to subscribe on our website. Our updated version of the Trail Newsletter has been posted to The Trail. If you haven't already, check it out to see what we have been up to this winter.
Staff – your forms are already available on the Staff Dashboard. Please fill them out as soon as possible.
If you have any friends who might be interested in touring Camp Echo Lake this summer, please have them contact us in the office at 518-623-9635.
If you haven't already explored our new website or watched our new videos, be sure to check it out!
To make sure that you always know what is up and coming, check out the CEL Calendar of Events here: CEL Events Calendar
Looking ahead to May:
Save the date for the New Camper Picnic on May 7th
Be on the lookout for the May Edition of the Trail Newsletter – and be sure to share it with your kids!
Get excited to start the count down to 50 days until camp!