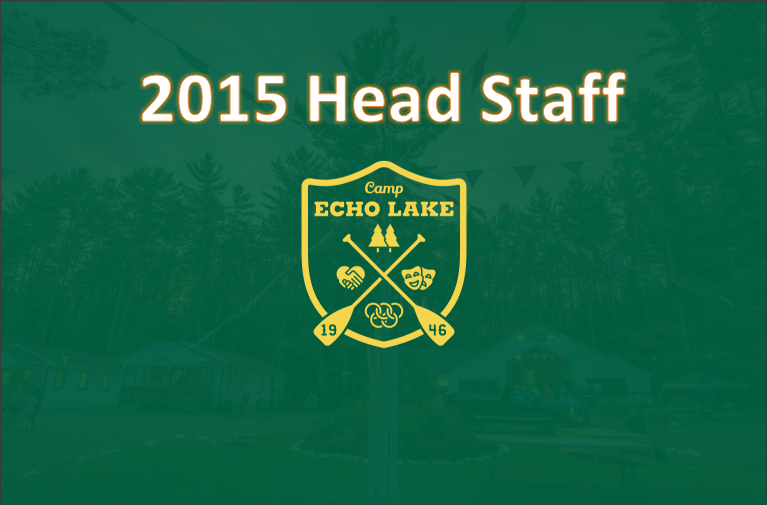 In recent weeks on The Trail, we introduced you to the 2015 Head Counselors and the LIT Director.  This week, we are proud to introduce you to the Head Staff from Programming.  Below is a brief introduction to each person.  To get to know more about any of the individuals profiled this week, click on their name to read their full profiles.
DAWN WYLIE – Dawn will be returning for her 10th summer at Camp Echo Lake, and her 5th in the role of Activity Director.  During the year, Dawn is a gymnastics coach for children between the ages of 4-16 at the Torbay Olympic Gymnastics Club in the UK.  In addition to overseeing all of the activity specialists, Dawn works alongside our Program Director (Jacko) to help create the weekly schedules.  She also works very closely with Glenn Begly to coordinate inter-camp games.
SAM WILKINSON – Sam will be returning for his 4th summer at Camp Echo Lake, and his 2nd as the Main Village Program Coordinator after transitioning from being the Soccer Head Specialist for his first two summers.  In this role, Sam runs lineups and evening activities, and also supports the activity staff in their respective areas.  Sam has a background in Physical Education, and coaches a junior soccer team in his native England.  During this past year, he has been working on an internationally recognized graduate teacher qualification that will help him achieve his goal of teaching in the United States.
NICK "STEW" STOULIG – Nick will be returning for his 15th summer at Camp Echo Lake, and his 3rd in the role of Program Ops.  During the year, Nick teaches 12th grade Civics and Free Enterprise in Hammond, LA, where he lives with his wife and two children, Ethan and Sophia.  In his spare time, Nick is a proud member of an all-male, charity dance group called the 610 Stompers.  Though he spends most of his time behind the scenes during the summer in his Program Ops role, he loves his time in the spotlight as the host of the weekly camper talent show – Friday Night Live.
MAT HASKELL – Mat will be returning for his 4th summer at Camp Echo Lake, and his first as the Senior Village Program Coordinator after spending his first three summers as a Cabin Specialist, a Group Leader and 4n4.  Since relocating to the U.S. from Salisbury, England in 2013, Mat has been pursuing a bachelors degree in History (with a specialty in Education) at Michigan State University.  He has lived all over the world, but he feels most comfortable is in Warrensburg, NY at Camp Echo Lake.  Mat is looking forward to bringing some new and exciting additions to the Senior Village Program this summer.