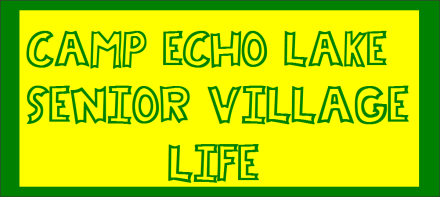 by Casey Linder (SV Girls Head Counselor) and Cal Meyers (SV Boys Head Counselor)
With week one in Senior Village in the books, we thought it would be a great time to reflect on the many exciting and dynamic things happening at camp! The mission in the Senior village is to keep everything that we do both on and off camp inclusive, safe, and fun! We kicked off the summer with the Longevity Awards, where campers and staff who have spent 3,5,7,10 years at camp receive shirts, sweatshirts, fleeces, and raincoats (oh my!) In the first few days in the Village, it is important for our groups to have time with each other to reconnect and establish really strong connections with their staff. Our campers had time to partake in group activities and team building exercises to get them back into the camp spirit!
Evening Programs
Our senior villagers have already gotten the chance to participate in some really awesome evening activities! Each bunk became a team in a senior village wide scavenger hunt, where they had to gather random items on camp and learn some camp trivia. Who doesn't love trivia?! We also got to watch some hilarious and highly animated scenes from plays that our groups here will be performing during Interarts! And what better way to cap off the evening than with an EPIC Tribal break!!??!! Our senior villagers were amped up for the start of Tribal and are looking forward to their first Tribal event of the season, Tribal Tug! Another crowd favorite, Group Sing, is taking place on Tuesday, July 5th! Each age group gets the chance to write a song and choreograph a dance to be performed in front of the entire camp! Be sure to check the website for some hilarious and creative videos!
Trip Day Thursdays!
Here in the village, we get the privilege of going off camp every Thursday on a different trip! Our first trip of the summer for Lower and Upper Village was to the Great Escape Water Park! The campers had such a blast going on different rides and hanging out with friends! The 4n4 campers and staff got to spend their trip day at Veteran's Beach, just a quick walk to Stewart's ice cream shop! Stay tuned for more information on some of the awesome trips to come!
To be continued…
The Lower Village boys and girls will be having a campfire, and the Upper Village boys and girls will be doing flashlight sing with Tony! Be sure to keep checking back in on our blog for more updates on all of the incredible activities and moments that our campers are having each and every day!