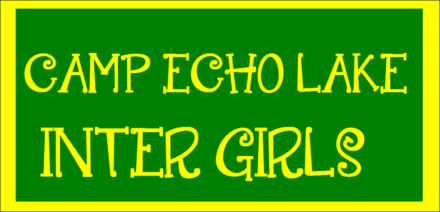 By Ally Begly (Inter Girls Head Counselor)
Even though I've been at camp for the majority of my twenty-eight years on this earth, I always get excited when the buses roll in. It's not really the element of surprise that excites me, since I know exactly what to expect. The wheels kick up the same cloud of dust on the gravel road, the counselors start a series of slow claps, and finally the campers, having eaten their last candy bars and officially disconnected from their cell phones, disembark and arrive at their summer home. I suppose my excitement comes from the energy that permeates camp on arrival day. It's an electric atmosphere that's the product of a unique community. I think everyone realizes that something special is about to happen. That's what's so exciting – that we have a chance to spend two months in a place where we can really be ourselves.
I was thinking about the unique community of Echo Lake as I got ready to write this blog post. The first week of camp is always really neat from the perspective of a Head Counselor. You see little communities being developed and strengthened all over the place. Bunks connect, groups connect, staff connect, and then camp connects. The Inter Girls staff have really been emphasizing connection during this first week of camp. All of the groups hold circle ups a few evenings a week where positivity is highlighted and kindness recognized. Groups are starting to practice Group Sing, brainstorming lists of things they'd like to do on camp this summer, and simply enjoying time spent together. Thanks to the intentionality and hard work of the staff, I think we are laying the foundations for a strong community on Girls' Camp this summer.
From a programmatic standpoint, we jumped right in on Sunday! Groups have been enjoying tennis, soccer, softball, and art. Both inter plays (Little Shop of Horrors for the UI and Seussical for the LI) have been cast and the girls are hard at work putting the shows together. Auditions for the dance team took place this week and many girls are looking forward to the three dance competitions we will have this summer. Electives started on Tuesday, and campers have been able to pursue areas in which they have special interest. Two Upper Inter groups have gone to Sky Village, our new challenge-based ropes course by the lake, and the Lower Inters will be making a visit soon! Evening programs have been a blast, as well. The LIGE had their TREK overnight this week, and on Thursday, all of the Inter Girls participated in the first inaugural all-Inter-Girl Dutch Auction.
Looking ahead, we've got a lot of great things on tap. Soccer tournaments for the 7th grade and under team will start next week. Saturday, the Lower Inters have an inter camp at Southwoods, and the entire camp will participate in the Hoe Down on Sunday, followed by fireworks! Next Friday, there is a huge swim meet in which many campers are participating. Six camps are coming to Echo Lake.
We are very busy in the best possible way. More updates to come, including an in-depth plot summary of Girls' Camp Lineup!