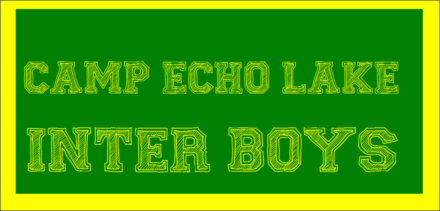 By Robert Cooper (Inter Boys Head Counselor)
With our first week coming to an end, there have been so many amazing things happening in our Inter division that I will struggle to fit them all into this short post.  Even though this is my third summer working with the Inters (first as a head counselor), I am still amazed at all of their enthusiasm and (especially) their energy.  It has been such a pleasure getting to know each of these awesome campers and I am so excited for this summer!
This first week has been filled with many awesome group activities that really help foster team building and enhance the group dynamics.  While TREK trips and waterskiing are always favorites when it comes to electives, the new Sky Village has instantly become a hit.  I have witnessed a lot of campers stepping out of their comfort zone at Sky Village, and their sense of accomplishment is inspiring to all of us staff.
As far as evening activities go, this week has been packed full of adventure, creativity, and hilarity.  All of main camp participated in Fairy Tale Theatre, where each group acted out a famous fairy tale or movie.  This activity really let the campers express themselves, face some fears of acting on stage, and just have fun!  On Thursday night, the Lower Inter groups and I took part in a scavenger hunt that involved taking photos and videos of different things and actions around camp.  This really opened up doors for creativity and some really great shots were taken.
Coming up this week we will be having so many more off camp trips, the start of some Intercamps, and I think we're going to break out bubble soccer for the first time!  I'm really excited for everything this summer holds and I can't wait to get to know each and every Inter boy.  We are the boys of Echo!