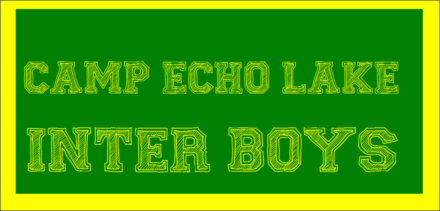 by Robert Cooper
It feels like just last week that we were greeting campers as they stepped off of the bus.  Heading into week 6 of camp, groups have hit their stride and we are quickly approaching our final week of camp.  So much has happened since my last blog post, and we will be smooth sailing through the final week.
Christmas Spectacular
On Sunday, all of camp planned on having our annual Carnival, but due to weather issues we had a last minute adjustment to our schedule.  My fellow head staff and I threw together an impromptu Christmas extravaganza that ended up being one of the most fun evening activities so far.  The night consisted of holiday songs, hot cocoa, skits, games, and presents.  All of our staff and campers got really involved in the night and it turned out to be such a special evening.
Counselor Cabaret
Monday night's evening program was our classic Counselor Cabaret.  This is always one of my favorite events of the summer.  It lets all of the staff display some unknown talents, and gives the campers a chance to see their staff in a new light.  The campers were such a respectful audience, and we truly have some talented staff members here.  Also, the famous "Lifeguard skit" never disappoints.
Other Highlights of the Week
On Tuesday all of our campers on main camp took part in "Random Acts of Kindness".  During this time campers write letters to those individuals and areas around camp that work so hard to make this place special.  It's so great to see how appreciative our campers are of everything we have here.  On Wednesday night both Lower and Upper Inter groups had their final campfires of the summer.  They were so engaged and excited to have this experience together, and it was such a great time to reflect on what an awesome summer this has been.
Coming Up…
We have a lot going on this week and throughout our final week of camp.  The final big TREK trips are occurring this week, as well as NHL, MLB, and NCAA days.  Our Upper Inter Boys are hosting Friday Night Services, we are having our big trip to The Great Escape on Saturday, and then our big Carnival event on Sunday.  I can't wait for all of the excitement that we have planned for our final 2 weeks, and I'm ready to get it started!