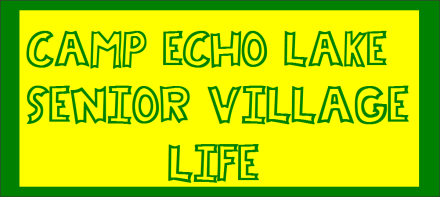 by Casey Linder and Cal Meyers
As we come to yet another close of an incredible week in the village, we can' t help but to reflect on all of the fun that we've had! We started off the week with the first annual Christmas Spectacular with the entire camp! Campers were able to "bet" on which staff person would win a certain competition. We ended the evening with announcing our final trip day to Great Escape, and our final special day, Echopalazy!!!
Special Day
This summer's SECOND special day was called "Echopalazy" and was the senior village's own music festival. Each group got to experience the many different stations of the day. Whether it was the relaxation station, the tie die station, the lawn games station, the soap and slip, or face paint, the groups were never lacking in the fun department. The middle of the day was marked with a concert led by the villagers themselves. We then opened the mic to any other performers who wanted to do a skit, song, dance, etc. We finished the day with more awesome rotations, and of course, a dance party!
Trip Day
Even though it was our last trip day, we certainly made the best of every moment. We had the opportunity to go to Great Escape!!!! It was here that we went on rides from the raging rapids, to the comet, to the sky coaster, and the carnival games as well. We'd be lying if we said we didn't have any time at the end for some candy. Looking back on all of the weekly trips we were able to take, and reflecting on our big trips to Cape Cod/Boston and Vermont, we feel so incredibly blessed as campers to have had the experiences we've had, and as staff to be able to facilitate all of the incredible memories being made
To be continued…
As we head into week 7, we start to check off the final items on our bucket lists to ensure that every goal has been achieved, and every challenge has been met. It's going to be an amazing end to an amazing summer. ☺