Read all the articles from this issue.
What have CEL Campers been up to?
---
 If you have something you'd like to be including in our next issue, please click here.
---
Dear Friends and Family,
As you may recall, last year our daughter Sydney collected personal hygiene items for Operation Mission Hope after being deeply affected by seeing a homeless person living on the street.  Through your generosity Sydney was able to collect over 20 bags of items, which she personally delivered to the Mission. This year, through July 10th, Sydney will be collecting NEW SNEAKERS as part of a collection drive for the students in our community who are in desperate need.  The goal is for each child in need to have a new pair of sneakers when heading back to school in the fall.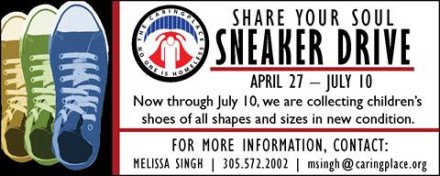 We will have a box set up outside of our home for anyone who wishes to donate sneakers to the cause and Sydney can collect them at school as well.  Please feel free to contact either one of us to arrange another pick up time if needed.  Sydney would also be grateful if you could pass along this donation request to anyone else who may be able to help.  For your convenience she will be collecting money as well and will use the money that she collects towards this mission.
You can email us at: greenwald.melanie@gmail.com
Thank you so much for contributing to this wonderful cause and for helping us teach our children how important it is to give back.
Melanie and Eric G.
---
Gabby F. invited bunk 28 for a sleep over at her house.  They had such a great time being together, and made yellow and green tie dye shirts to wear at camp 🙂
Joining Gabby was: Sophie S., Ava D., Sloane E., Grace B., Sarah S., Jenna T., Mia R., Julia S. Jessie R. unfortunately couldn't make it.
---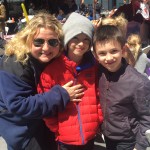 Returning camper Braydon K and new camper Shay Z ran into Laurie at the TriBeCa Film Festival Street Festival on a beautiful spring day in NYC.
---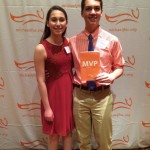 Zoe B. & Zachary W. at the Michael J. Fox MVP Awards Dinner which took place on Friday, April 10th at Gotham Hall in NYC.  Both Zoe & Zachary were recognized for their fundraising efforts and they were the top 2 "kid" fundraisers for 2014!  Zoe for Dance Shake Donate and Zachary for his Bar Mitzvah donations.
Together they raised about $100,000 for the Michael j fox foundation. Two CEL teens making a difference!!!
---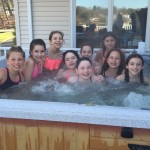 Fara L. invited her entire group of 2015 LIGs to a sleep over – we're loving the CEL love!
---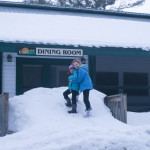 Maddie and Charlotte H. enjoyed a wintry stop at Echo Lake.  We agree with them – it is as beautiful in the winter as the summer!
---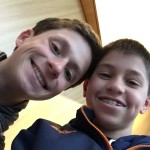 When Adam K. was visiting colleges with his sister he was lucky enough to bump into none other than Jake Gluckman!
---
Zoe B. decided to write about Morry for a project she had to do on heroes.  Click here to read her piece.
---
Cami C. had an assignment to write a feature article. At parent teacher conferences tonight, this is what was hanging outside her classroom. We have a warm inner glow to see that this is what she chose to write about.
---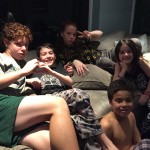 The Lassners and Bienstocks had an EPIC sleep over over March break in Miami, Florida. From Frosh to Senior Village; keeping the CEL spirit alive.
---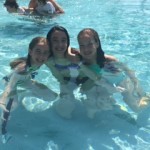 Big sunny CEL reunion in Florida today! Sydney G., Rebecca W., and Rachel B.
---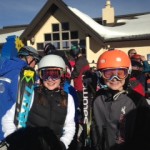 Dani N. and Jason S. having a blast on the slopes!
---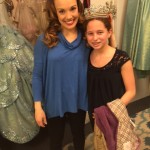 Fara L. backstage with Glinda from Wicked. She was speechless!!
---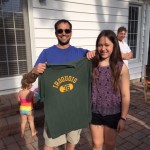 Sadie B. and her family moved to a new home this spring and across the street lives former Echo Laker Brian Goldberg! He pulled out his Iroquois shirt as proof!
---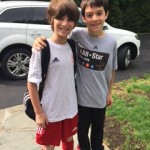 Max L. and Dylan Z. great CEL buddies catching up!
---