Read all the articles from this issue.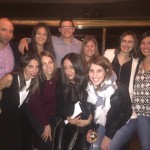 2001 LITs Evan Levine, Michelle Alperin, JP Begly, Raina Krasnow-Mehlman, Michelle Rinke-Wallace, Sophie Porter-Sperber, Lea Ozeri, Rachel Turnowski, Bari Rogoff and Rachel Rosenberg-Levine got together this spring and of course spent time reminiscing about their amazing summers at CEL.
---
Congratulations to Ken Babby who recently purchased the Jacksonville Suns.  Ken has been in love with baseball ever since he was a little guy – big excitement, Kenny!
---
Former Trek Director and awesome guy, Nate Wood, is a scientist with the USGS and lead author of a new study about Tsumani education was interviewed recently by CBS news.  Check it out here!
---
Marc Lichtenfeld (a CEL alum was at camp 1977-1980 and again in 1983) reached out to us recently.
Marc's wife, Holly, just launched a business aimed at teaching girls business/entrepreneurial/money skills. She has a kickstarter campaign to fund the publication of her first book. If you're interested finding out more:
Holly and Marc will write a book together later in the year on investing for girls. Marc's second edition of his book Get Rich with Dividends was just published. Not bad for a kid from Bunk 19 (1977).
---
George Stein met up with Craig Thomas who is a news anchor in Tucson and engaged to be married. Congrats, Craig!
---
Ian Inman, was golf counsellor and in the LSB cabin 29+ in 1986. He was excited to share photos of the LSB / LSG, golf sessions, golf camp in camp and the carnival day.  Ian and we hope a few ex-campers and counselors may enjoy them!
---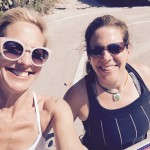 Ellen Katz Halpern (Iroquois chieftain '80) who lives in Toronto and Renee Pearl Sigler spent time biking in Hallandale, Florida- January 2015 Great times, good food and lots of laughs… Friends, friends, friends, we will always be…
---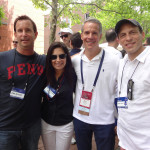 More camp friends finding each other…GL's of 1987 Ira Bloom, Jill Schwartz-Greer, Mark Weinstein & Alan Nadel were together at a Penn Alumni weekend.
---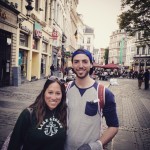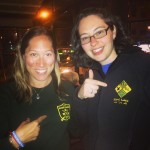 Former CEL staff members, Rachel Glickenstein and Peter West, ran into each other in Brussels…and Rachel also ran into alum, Ruth Kleinman in Jerusalum. Wow- CEL pride does go worldwide!