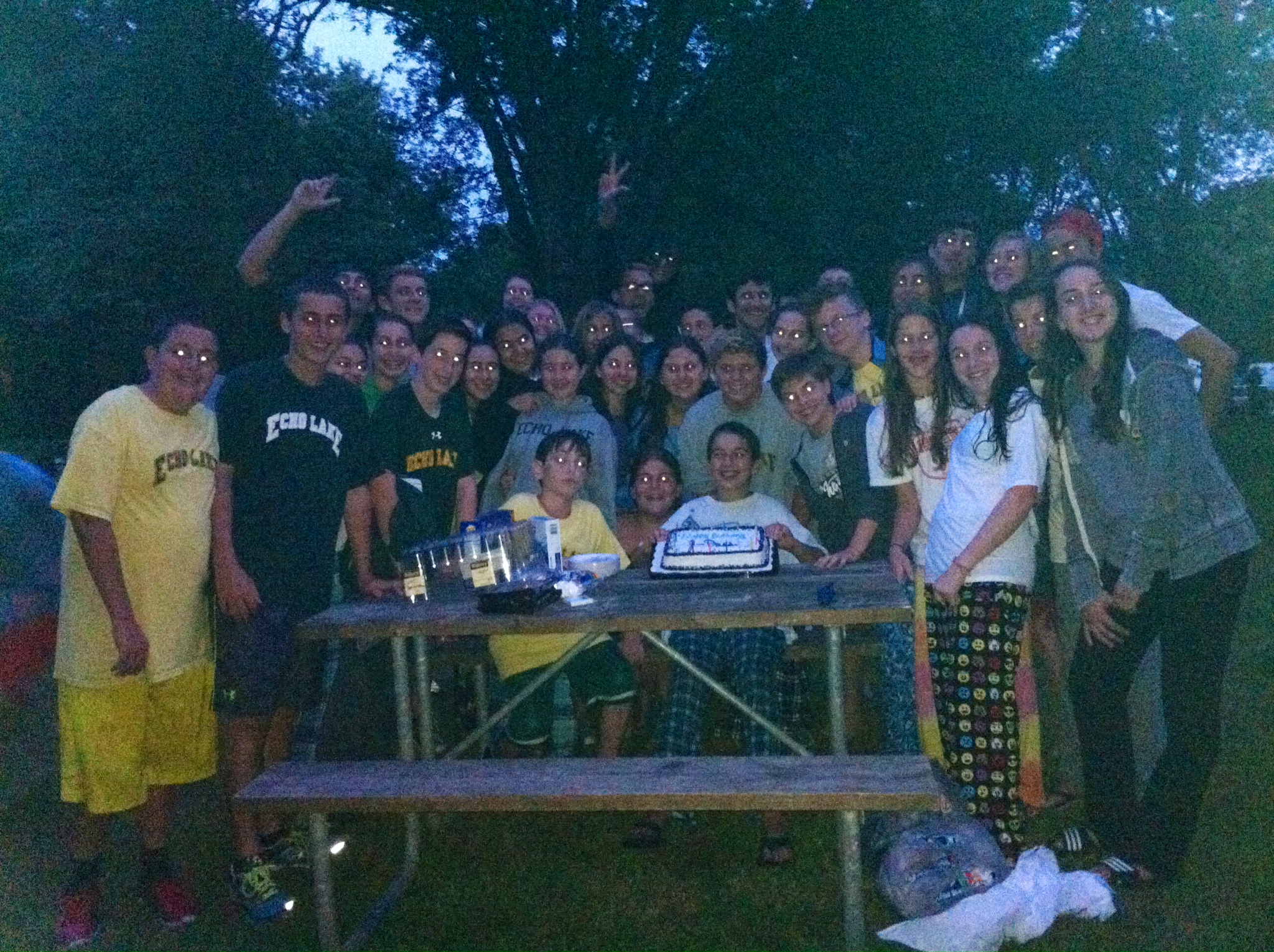 Upper Village West Cape Cod Trip
By Rachel A., Hannah S. and the rest of Upper Village West
Dear Echo Lake blog readers,
Upper West Village Cape Cod has hopped off the bus eager to share their experiences with the Echo Lake community!
Day 1
We loaded our bags onto the bus bright and early Monday morning, and left camp to go to Cape Cod.  Once we arrived at the campsite, we set up our tents. 
Kersti
walked around the campsite and found a playground, which had a jumpy castle type of thing.  We ended the first night of our trip by going out to dinner, making s'mores and celebrating a birthday.
Day 2
The trip started out with a full day of biking around Martha's Vineyard.  After taking a ferry to the island, we got on our bikes and set out to explore. We ended everyone's favorite day at the campsite, where we made chicken fajitas, hot dogs and veggie burgers for dinner. We also celebrated two more birthdays!
Day 3
Our "wicked" day included a "Hocus Pocus Tour" of Salem and learning about the witch trials.  Our next stop (on a hot and humid day) was a tour of Fenway Park.  We sat in the "Green Monster" seats, walked the Red Sox Hall of Fame and went to the museum, where we saw the World Series rings.
Our personal favorite part of the day was shopping in Quincy Market.  We bought Wicked Good Cupcakes (otherwise known as cupcakes in a jar), that were made famous on Shark Tank.  We had a great time walking around and buying souvenirs, and by coincidence, we bumped into friends from Camp Blue Ridge and Camp Equinonk. To end the perfect day, many of us went to Wagamama and enjoyed delicious noodles!
Day 4
We started off at the Boston Aquarium, where many of us pet the stingrays, saw a seal training show and learned about different sea creatures.
After we left the Aquarium, we headed out to the Boston Science Museum.  At the museum we ate lunch, watched an IMAX movie about really cute pandas and walked around checking out the exhibits.
One part of the museum was the Human Life exhibit.  This included getting paper bracelets that had barcodes on them, which allowed you to go to "link stations" activities.  At these stations, you scanned your bracelet, and once you finished the activity, you could go online and look at your results.  We left the museum after looking through the gift shop.
To end the night, we went to the Hard Rock Café for dinner which, in our opinion, was DELICIOUS! To end an amazing trip we saw the show
Shear Madness.
The show was absolutely hilarious, and it was a great way to end an amazing trip!
Conclusion
After 9 movies, lots of food and tons of fun, we all had an amazing time and experience.  Cape Cod was an intro to 4n4, which excited everyone on the trip. We left camp as two different West groups, but came back as one West Side!