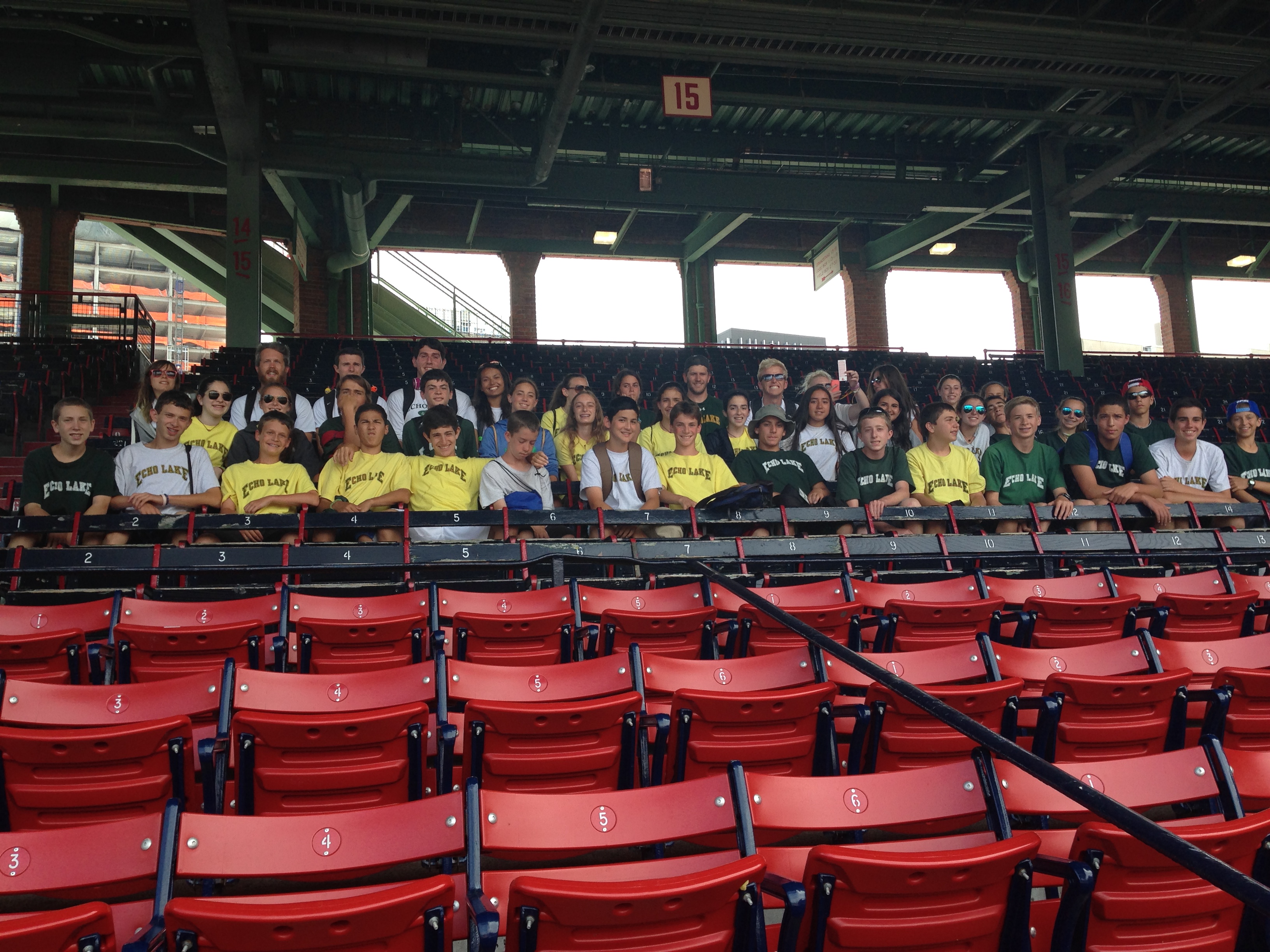 Upper Village East Cape Cod Trip
By Brian V., Jess G., Emma G., and Chelsea B.
Echo Lake Blog Readers,
This is our Upper Village East Cape Cod Trip story…
As we boarded the bus at Echo Lake, we could only imagine the fun that we were going to have on our trip.  There were so many exciting places and things that we were about to experience…
Day 1:
We left camp around 10:00am, excited for five fun-filled days in Cape Cod.  After stopping at a rest stop for lunch, we continued on to the Cape Cod KOA Campsite.  When we arrived at the campsite, we all worked as a team to set up our tents and unpack our trunks.  At night, we all sat around the campfire and bonded as a group, talking about the highlights of our day before going back to our tents to get some sleep for the next thrilling day.
Day 2:
We woke up, ate a quick breakfast at the campsite, and then got on the bus to the ferry that took us to the beautiful Martha's Vineyard.  At Martha's Vineyard, we spent the day biking, sightseeing and shopping for souvenirs.  At the end of our adventurous day, we went back to the campsite to prepare our own cookout dinner, which was a lot of fun, and the food was delicious!  After dinner, we enjoyed ice cream and united as one Cape Cod Group.
Day 3:
On day 3 of our trip, we went to an incredibly intellectual "Hocus Pocus Tour" in Salem.  On the tour, they gave us information about the Salem Witch Trials and showed us very interesting sites where all of the history took place.
After the tour, we headed out to Fenway Park, home of the Boston Red Sox.  We took a really cool tour of the ballpark and sat in the seats above the famous "Green Monster."
When the tour of Fenway Park was over, we went to Quincy Market, where we spent the evening walking around, shopping, watching extremely crazy street performers and eating a delicious dinner!
Day 4:
Waking up on day four, we all were excited for what was in store for us!
We boarded the bus to go to the New England Aquarium.  At the aquarium, we had the opportunity to touch stingrays and baby sharks as they swam around in a pool.  This was an exciting first-time experience for most of us!
After spending a few hours at the aquarium learning about marine life, we departed to the Museum of Science. When we got there, we had a really good lunch and then went to check out all of the cool exhibits about wind, electricity, the human body, and many more fascinating topics. All of the exhibits were very interesting and informational.
After looking at the exhibits, we all went to an amazing theater located inside the Museum of Science called the "Omni Theater."  The theater was dome-shaped (like a planetarium).  We watched a documentary about the endangerment and possible of extinction of pandas.  This documentary really altered our view on preserving pandas and their habitats.
After watching that mesmerizing movie, we took a short stroll around Harvard, and went to the famous Harvard Book Store. For dinner, we went to the Hard Rock Café, where we all bought matching T-shirts.
We finished the night off with an amazing, hysterical play called
Shear Madness,
where you get to choose the outcome of the story.
It was a fun-filled, jam-packed day!
Day 5:
Time to go back to camp!
On our last day in Cape Cod, we woke up, broke down camp, and boarded the bus back to Echo Lake. We stopped at a rest stop for lunch, and arrived at camp just in time for snack, where we reunited with friends and family. We told them all about our amazing Cape Cod adventures and all the fun we had. ("We cleared it!")
Conclusion
The Cape Cod trip created a strong bond between the two Upper Village East groups.  At Cape Cod, we had many inside jokes that we will remember forever!  We became much closer as a group, gaining trust and confidence in each other, but most of all, we realized that we are ready and excited for 4n4 next summer!  We left as two groups and came back as one.
Upper Village East Cape Cod Trip (a.k.a. Trip Two)
"6 and 1 – 6 and 1 – 6 and 1 – Trip 2 – Hoorah!"