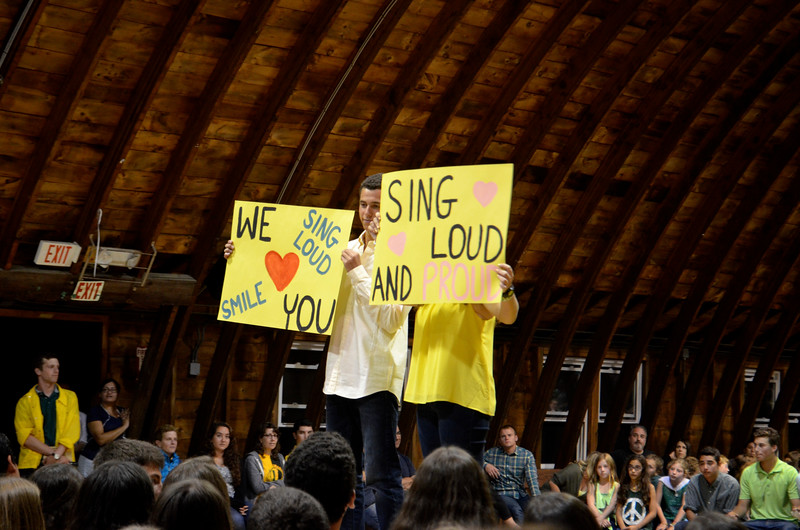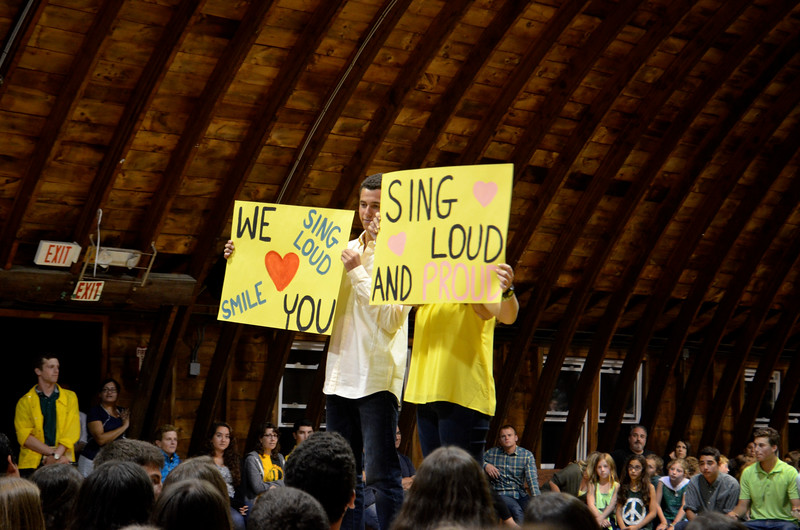 Written by Adam Waldman
Coming into Tribal Sing, Iroquois trailed Mohawk by a mere 13 points.  After a full summer of events, the Tribal outcome would ultimately be decided by this final competition.  With a great deal of practice under their belts, the campers were all well-prepared to perform four songs (Entrance, March, Comic and Alma Mater).
Emotions ran high before the first note was sung, particularly for the LITs.  To them, Tribal Sing was more than just the final event that they would coordinate.  It was the culminating event of their LIT summer, one in which they have worked diligently to achieve outstanding results.  Most had tears in their eyes as all of the members of Mohawk and Iroquois filled the Rec Hall.  Some wept openly, and were consoled by hugs.
Although Tribal Sing is about competition, it is also about unity, and not just when the hatchets are buried at the end of the event.  As the teams sat silently waiting for their cue to begin singing, I witnessed a moment of unity that most probably didn't notice.  A Frosh Girl on Iroquois blew a kiss to a Mohawk LIT sitting directly in front of her.  The LIT pretended to pull the kiss in on an invisible rope, and place it on her heart once she reeled it in.  Though they sat on opposite sides of the Rec Hall on competing teams, they were connected.
Prior to the entrance songs, Tony Stein took a moment to recognize the past Tribal Chieftans in attendance.  Most were fairly recent, but some went back many years (Amy Stein 56 years ago was the longest).  The campers paid deference to each Chieftan as they were announced with enthusiastic, appreciative applause.
Mohawk won the coin toss, and chose to sing their entrance song first.  As two LITs took each step up to the platform to lead their team, you could feel the emotion in the air intensifying.  They held up painted signs for their team to see, a process that would be repeated for each song by the LITs conducting the group.  All of the signs featured either messages of direction, humor or heartfelt gratitude to their respective teams.
All of the practice that had taken place beforehand paid off, as the members of Mohawk followed the direction of their leaders throughout every moment of the entrance song, singing energetically in unison.  The bar was set very high for Iroqouis, but they delivered a performance that was equally as impressive.  After both teams had performed, I couldn't help but wonder how challenging it must have been to judge this competition.
Both teams did an admirable job on their respective marches and ultimately on their tear-jerking alma maters, but the highlight of the event (at least the happiest moments) occurred during the comic songs.  Mohawk went first, and delivered some very funny lines, once again setting the bar extremely high for Iroquois, who more than rose to the challenge as they sang several lines that elicited noticeable laughter throughout the room.  It was during the comic songs that it really hit home how mature and in-tune the LITs are, often times making observations that you wouldn't necessarily think would be on their radar.
By the time that both teams finished their alma maters, the emotion in the room was palpable.  As the campers waited for the final scores to be tallied, the tears were flowing pretty heavily; it had nothing to do with the outcome of the event.  The campers try not to dwell on the fact that their days at camp are coming to an end, but that is virtually impossible during Tribal Sing.
As Tony read the score for each category, the team with the higher score erupted in cheers.  Both teams had their moments of glory.  Ultimately, Iroquois won the battle (Tribal Sing) by four points, but lost the war (Tribal) by nine points.  Mohawk cheered loudly and celebrated together.
For the Mohawk LITs, the moment was still bittersweet.  They embraced and consoled each other as tears rolled down their faces.  All of their hard work paid off, but this night was about much more than emerging with a Tribal victory.  Although there are a few all-camp events remaining in the summer, Tribal Sing marked the end of a developmental journey that began many summers ago for most.
The LITs on both teams deserve significant praise for how they conducted themselves and led their teams during Tribal Sing.  No longer does it seem fitting to have "in training" as part of their title.  Simply put, they are now leaders who should be proud of their accomplishments.  And though their time as Echo Lake campers is coming to an end, it's not hard to imagine many of them returning when they are eligible to join the Echo Lake staff.