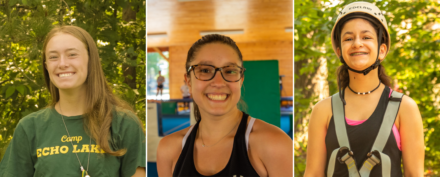 Recently, Camp Echo Lake learned about the VING Project (https://vingproject.org/). "The VING (as in, giVING) project is a national movement sparking the next generation of givers. Through VING, teens (ages 14-18) have an opportunity to give an individual, outside of your family, in need an encouraging boost by surprising them with $1,000." When we heard about such an incredible opportunity, and knew how big the hearts of our campers are, we spread the word so they could spread the Warm Inner Glow. Three of our CEL Campers entered the VING project and nominated people in their lives that they felt were deserving of the $1,000. Guess what?! Not one, not two, but all three of our campers who nominated someone for the VING Project were chosen for their nominee to receive the $1,000! How awesome is that? Congratulations to Sami Cohen, Amanda Volk, and Cami Churchfield for having big hearts, taking action to make a difference for another person, and for spreading your Warm Inner Glow to others! Here are Sami, Amanda, and Cami's stories of giVING…..
Sami Cohen – 2020 4n4:
"VING is a project that allows teens to nominate people they think are worthy, deserving, and needing of some extra cash. I chose to nominate my family friend and neighbor who is almost like a second mom to me. She is a hairdresser and runs her entire business from her home, and currently, due to COVID-19, she is out of work, which I know has been difficult both financially and mentally. She is the most generous person I know. She leaves out snacks and drinks for construction workers, offers to buy us groceries when she's going shopping, and never expects anything in return. I immediately thought of her when I learned about VING, mostly because I wanted to show her how much I care. When I found out that my submission had been picked, I was shocked. I was beyond excited because I knew she would be less stressed about finances for a little bit. Ultimately, for me, the VING project wasn't about the money, it was about the gesture and showing my family friend that I care about her, and that her actions do not go unnoticed."
Amanda Volk – 2020 LIT:
"When I first heard about VING I was so excited to send in a nomination, but wasn't 100% confident that I would be able to win. I decided to nominate my preschool music teacher that I and my family have kept in touch with over the years. She's a part time teacher and a part time musician, her husband is a full time musician, and they've always had financial struggles. In March, they were supposed to have a performance that would help pay for a big portion of their bills, but it got cancelled due to the pandemic. I was so happy when I found out that I had won the $1,000 for their family and it felt amazing to give back because they've been such an important part of my life."
Cami Churchfield – 2020 LIT:
"When I got the notification that the Camp Echo Lake Instagram tagged me in the VING post I felt so grateful for the opportunity to participate in this really cool project! The VING project allowed me to nominate someone in my community who was deserving of $1000. Immediately I chose to nominate a girl my age that goes to school with me who is suffering from a severe Pulmonary Arterial Hypertension which rapidly developed into Congestive Heart Failure. The only available treatment option was a double lung transplant. I am so excited and appreciative that I will be able to give back and know that the $1000 will help her receive the treatment she deserves!"
 Wow!! Outstanding job, Sami, Amanda, and Cami! We are thrilled for your deserving nominees and so proud of each of you for putting yourself out there to give to others! Big Fuzzies for each of you ladies! If you, or someone you know, wants to take part in the VING Project as well, please go to the VING Project (https://vingproject.org/) to learn more and nominate a deserving person in your life. Keep us posted as we would love to celebrate you and your nominee too!