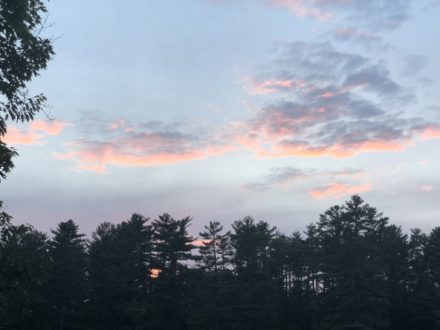 In June of 1970, I packed up my belongings and made the long trip from Baltimore to Warrensburg for my first summer at Echo Lake. Earlier that spring, I met Morry Stein at UMBC, where I went to college, and he offered me a position as a general counselor.  Tagging along with Morry was his seven-year-old son Tony. When I met Morry, there was no way I could know that he would become my mentor, my hero and a father figure to me, a person I could look up to and emulate as I grew from a twenty-something to adult to middle age and, now, beyond.
I didn't know it then, but that day changed my life forever.  How could I know that over the next fifty plus years, I would meet not only thousands of wonderful staff and tens of thousands of great campers, but my wife as well?  I didn't know then that my own children would have the indescribably precious gift of being campers, and then long time staff members.  Truly, the only thing close to as good as being a camper at Echo Lake is being an adult staff member and seeing your children thrive and grow at camp.
For over fifty years, camp has been my focal point, a constant no matter what the twists and turns of my professional or personal life.  Besides a short hiatus when I served in the Army after being drafted, every June, July and August since 1970 have been defined by Echo Lake.  Although the professions I chose, college coaching and public school teaching, lent themselves to returning to camp year after year, I have to be honest and say that there were times when I did not pursue career advancement because it might mean that I could not return to camp.  And there has never been a time when I regretted those decisions.
Which brings me to today.  Normally around the first of June, camp experiences a grand awakening, with a gradual influx of staff, veterans and newcomers alike.  We should be getting ready for the campers to arrive, anxious and excited to recreate the Echo Lake experience, with all of its accompanying fun, energy, tradition, and smiles.  This year, camp is eerily silent.  The beautiful summer weather is upon us, but there is the somber reality that this will be a summer like no other.  As I was walking by the Amphitheater the other day, I was thinking about the Friday night service before Visiting Day.  Forty nine times, at the conclusion of that program, I have heard Amy say to the campers, "Tomorrow I want each and every one of you to give your parents a big hug and thank them for sending you to camp, because there are many, many children who will never have this opportunity."  How true!  This summer, because of circumstances beyond everyone's control, few children will experience the magic of sleepaway camp. And so, as much as we are all very, very sad that we won't be here together this summer, what better time to reflect and really appreciate camp, and how incredibly fortunate we, whether campers or staff, are to have even one summer at Echo Lake, let alone fifty.  Even better, let's commit ourselves to making 2021 the best summer ever by making sure we come to camp ready and willing to give as much of ourselves to others as we can – if we do that, the magic of camp will be even more powerful.
It's human nature to take things for granted. There's a Joni Mitchell (campers, ask your grandparents who this is) song with lyrics that go, "You don't know what you got 'til it's gone."
Lucky for all of us, camp isn't gone, it's just waiting.  I'm ready for another attempt at summer number fifty. I'll see you then!