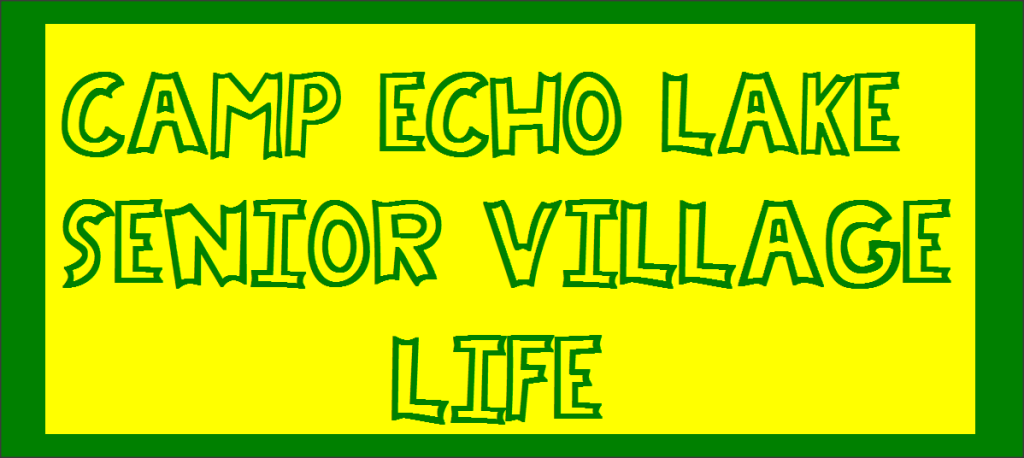 SENIOR VILLAGE BOYS HEAD COUNSELOR – Jon "JOB" O'Brien
SENIOR VILLAGE GIRLS HEAD COUNSELOR – Kersti Haskell
Once again, it's been a busy week in the Senior Village.  We are now a complete village again as both of our 4n4 trips returned this past week. We've also had time to squeeze in Secret Hideaway, our last trip day and our big TREK trips.  It's crazy to think that we only have one week left.  I'm sure that we'll make it one to remember!

TRIP DAY TO GREAT ESCAPE WATER PARK (SPLASHWATER KINGDOM)
This past week, our Upper and Lower Village campers all returned to Six Flags Great Escape to spend a beautiful day at the Splashwater Kingdom. While not everyone from Senior Village was quick to plunge into the water, by mid-afternoon, all campers and staff were thoroughly enjoying everything that the waterpark had to offer.  Some groups were more relaxed and just lounged on the lazy river, while others rushed from one waterslide to the next.  A clear favorite among the campers was the "Tornado," where riders sat in a four-person tube facing each other and rode through the mouth of a funnel, getting soaked all the way around.  The weather for the day was perfectly sunny, and the waterpark provided ideal relief from the heat.  Of course, campers enjoyed the opportunity to eat food, snacks and candy from off-camp as well.  Everyone was pretty well tired out after such an exciting day!

4n4 TRIP ONE & TWO RETURN
We were so happy to welcome back our 4n4 One and Two campers very early on Saturday and late night on Sunday.  The 28 days that each trip spends out west is an incredible experience that creates a unique bond between each group.  Each year, we have the pleasure of witnessing this incredible transformation.  Each group returns with countless stories, memories and levels of positive energy that really gives the rest of the Senior Village a boost heading in to our last week together.  Our Senior Village family is now complete again, and we're so excited to spend it all together during the last week of camp.

SECRET HIDEAWAY – "HOLLYWOOD GLAM"
Each summer, our Upper Village campers have the opportunity to take charge of Secret Hideaway. This event raises thousands of dollars each summer, with the proceeds going to Project Morry.  This summer, the Secret Hideaway theme of "Hollywood Glam" allowed our Upper Village to really go to town, with a limo (golf cart) ride VIP entrance, bow ties, paparazzi, an art auction, a bake sale, DJs, casino and a room full of eager, hard-working Upper Villagers.  Through our incredible art auction, entrance fee, bake sale, car wash and casino we raised over $4000.  For a more detailed run down of the event, check out the Secret Hideaway article that was published this week on The Trail.

THE WEDDING SINGER
The Senior Village campers and the LITs finally had their chance to grace the Amphitheater stage with their version of The Wedding Singer this past Saturday night.  All involved did a fantastic job, and the show was a huge success!

BUCKET LISTS
Our Senior Village campers have had the opportunity to create group bucket lists over the past few days, and we've been doing our best to fulfill these requests.  From a Lower Village Boys 2-hour water war to changing the rocks and raiding canteen, the campers are having a blast!

THE WEEK AHEAD
It's finally hit home that we're entering our last week of camp for summer 2015.  While this is an emotional week, it's also a week filled with many of our quintessential Echo Lake activities.  Coming up this week we have:  Girl's & Boy's Sachem Hoops, Hockey, Soccer and Softball, Echomania, Upper Inter Graduation, Tribal Sing, Camp Party, Banquet, Reprise, Burning of the year and finally, the saddest day on the Camp Echo Lake calendar…departure day.
Sunscreen, Water Bottles, WHO ARE WE? THE VILLAGE!