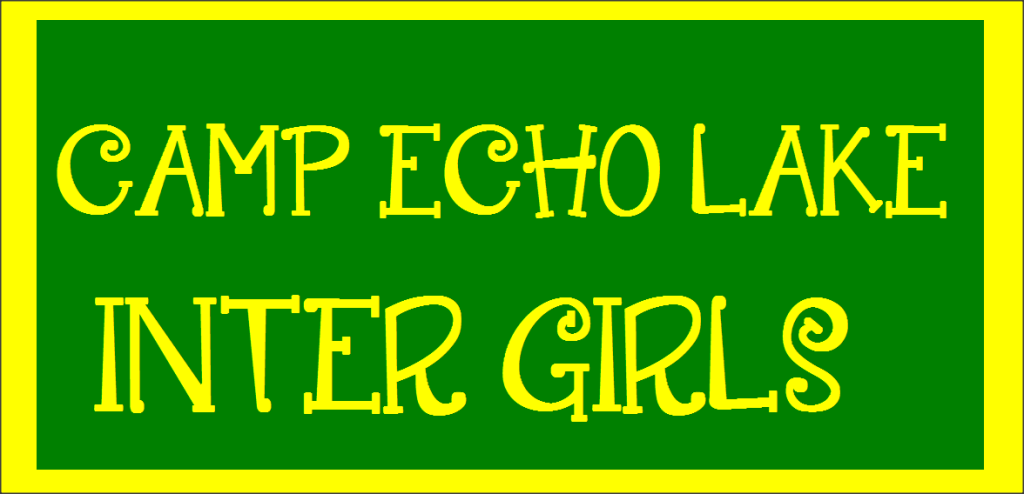 INTER GIRLS HEAD COUNSELOR – Ally Begly
TRIP TO GREAT ESCAPE
On Tuesday, all of the Inter Girls went to a Six Flags Great Escape.  Everyone was excited for days beforehand.  The campers were grouped up according to their interests at the park.  Some groups were interested in shopping and taking it easy, while others were determined to ride every roller coaster that they could!  We had a great day filled with funnel cakes, prizes, games, souvenirs and rides that left some (…the staff) feeling slightly nauseated.  It was a fun opportunity for everyone to spend time with their friends and counselors in a smaller group setting.  We all met up for lunch and a took a final trip around the gift shop to end the fun-filled day.

CAMP ECHO LAKE DANCE COMPETITION
The Echo Lake dance competition was a definite highlight of this past week.  This was the first time that we've ever hosted an intra-camp dance competition of this size, and it was awesome!  Campers choreographed their own routines and then performed in front of the entire camp.  It was great to see boys and girls from all age groups participating in the competition.  The amount of creativity that was demonstrated by the campers was truly impressive.
The Inter Girls did a great job.  There was a particularly neat Lower Inter Girls dance, and a few great solo/small group acts from the Upper Inter Girls.

AN EMOTIONAL TIME
The last week or so of camp can be an emotional time for many people.  Because Camp Echo Lake is such a special place, it is very hard to leave when the summer ends.  I think that everyone has formed deep connections, and lately, I've seen so many people truly enjoying every last moment at camp.  It's been particularly rewarding to see both individuals and groups overcoming different challenges and fully embracing their position at camp.

MINUTE TO WIN IT
The all-camp challenge, Minute to Win It, was a really fun and exciting event.  The winners from each division competed in a number of challenges and mini-games in front of the entire camp during an evening program.  The finale featured an Inter Boy vs a Senior Village Girl in a game of ping-pong tic-tac-toe.  It was a blast to watch!

TREK OVERNIGHT / THE LAST UPPER INTER CAMPFIRE
There have been a few events over the past week that were rescheduled from earlier in the summer.  The Lower Inter Girls East had their TREK overnight last night and braved it out in the rain!  The Upper Inters had a special late-night campfire on Sunday night following SNL.  It was really fun to have the campfire under complete darkness, though it was a bit bittersweet because it was the last Main Village campfire that the Upper Inters will have at Echo Lake (at least until they return to us as LITs!).

COMING UP
The last week of camp is jam-packed with special events.  Tonight, we have Boys' Sachem Hoops, which is always something to look forward to.  Later on in the week, we have our final services hosted by the Upper Inter Girls.  The girls have already started planning, and it looks like it's going to be a great one!  We also have Upper Inter graduation, and then of course, Camp Party, Banquet and Reprise.