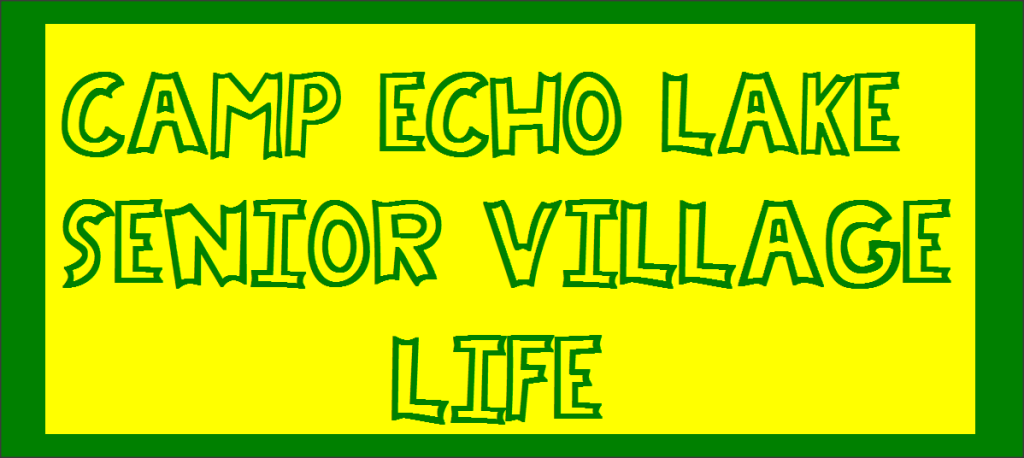 SENIOR VILLAGE BOYS HEAD COUNSELOR – Jon "JOB" O'Brien
SENIOR VILLAGE GIRLS HEAD COUNSELOR – Kersti Haskell
This has been one crazy, jam-packed week of Echo-awesomeness!  Our Lower Village Boys and Girls headed off to Vermont on separate trips; we had our third (and final) Special Day of the summer, and capped off a truly epic week with the annual Echo Lake Carnival.
VERMONT TRIP
Our Lower Village Boys and Girls departed for Vermont last Monday following reverse itineraries that included:  Adirondack Extreme, Burlington, Shelburne Farm, a Lake Champlain cruise, bowling, a drive-in movie and whitewater rafting.  Both trips received fantastic feedback from all of the places that we visited.  All of the campers did a wonderful job of representing Echo Lake.  Look out for full recaps of both trips from two of our Lower Village campers in the coming days.
UPPER VILLAGE SARATOGA TRIP DAY
The Upper Village campers went to Saratoga Springs last Thursday for their weekly trip day.  While it rained for the first hour of the trip, the campers made the most of the time by shopping and eating.  When the sun came out, they were ready to relax in Congress Park for the afternoon.  It was perfect weather for the last few hours of the trip, and campers were able to enjoy playing Frisbee, KanJam and other games as well as snacks in the park.  Everyone had a relaxing day enjoying the scenery around them in Saratoga.
SENIOR VILLAGE "ECHOPALAZY"
Direct quote from the Warrensburg Daily Star Journal…"Senior Village Echopalazy tickets went on sale on Friday, selling out in a festival world record time of 44 seconds. Campers and staff travelled from all over the world to be a part of the first ever Senior Village Echopalazy. With fresh smoothies, colored relaxation, cloud watching, water beds, Spin Art, Slip N Slide, mural painting, tie-dye shirts, flavored water, live music, Chipwiches and their very own Senior Village-themed painted School Bus."
This truly was one of the most incredible and memorable Special Days that we have all been a part of. All of Senior Village had an amazing day.  We finished with a special outdoor canteen, with our painted school bus covered in fairy lights and lip-sync battles…a fantastic ending to an unforgettable day.
CLICK HERE to check out all of the Echopalazy photos.
SWIMATHON & COLOR RUN MARATHON
During the last few weeks, our LITs and Upper Village campers helped to raise money for Project Morry.  Our Upper Villagers will be hosting Secret Hideaway this Friday night, and our LITs spent Sunday afternoon organizing our Swimathons and Marathons.  Every camper takes part in these events, with campers raising money for each lap of the pool or Senior Village.  This year, the LITs added a great twist to the Marathon by using Holi paint. Our Senior Villagers dressed in white so that all of the Holi paint colors could achieve the maximum effect.
CLICK HERE for some colorful photos of this great fundraising event.
CARNIVAL
Echo Lake Carnival is one of the most exciting and eagerly anticipated big events here at camp.  The past couple of years, we have switched locations back over to Main Village and it really is a sight to behold.  There were four huge bouncy obstacle courses, a dunk tank, a marriage booth, cotton candy, popcorn, snow cones, "Zap" lemonade, burgers, carnival-style food, music and tractor rides with Tony.   Our Senior Village-themed bus made an appearance as well.  Carnival really captures the energy of camp, and further highlights what makes Echo Lake such a special place.
THE WEEK AHEAD
With only two weeks to go, we have a variety of big events coming up.  Our big TREK trips of the summer (The Sike) head out, we have Ryder Cup, Counselor Cabaret, Minute to Win It, the last trip day of the summer to the Great Escape water park, The Echo Lake Dance competition, 4n4 1 returns, Secret Hideaway and The Wedding Singer.
Sunscreen, Water Bottles, WHO ARE WE? THE VILLAGE!