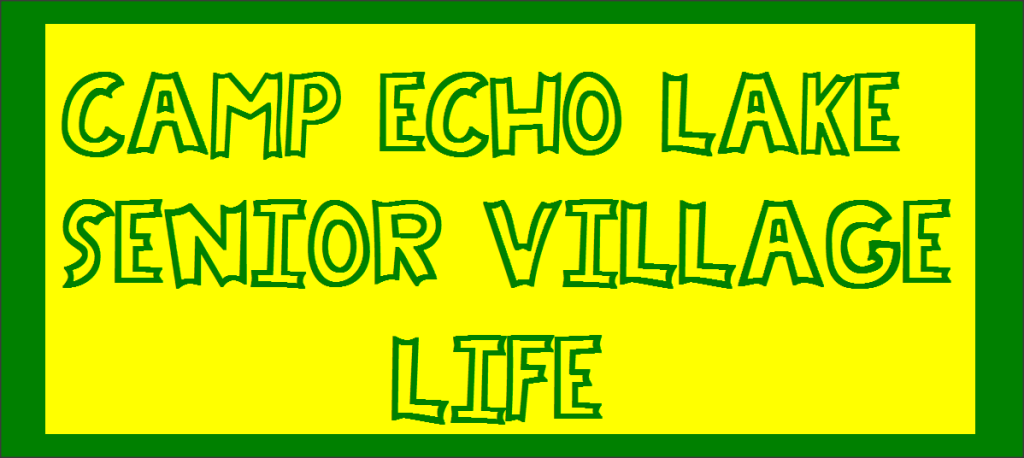 SENIOR VILLAGE BOYS HEAD COUNSELOR – Jon "JOB" O'Brien
SENIOR VILLAGE GIRLS HEAD COUNSELOR – Kersti Haskell
Special day, The Great Escape and Visiting Day, all in another jam-packed week of awesomeness here in the Senior Village!
SPECIAL DAY: The Echo Lake Winter Olympics 2015
"Feel the rhythm, feel the rhyme, let's go Senior Village…it's bobsled time!!"
The Echo Lake Senior Village is so amazing that we even have our own Winter Olympics during the summer.  The Villagers were split into six teams:  Germany, Italy, Canada, USA, Jamaica and Russia. We have our own takes on the Olympic torch run, Doubles Figure Skating, Curling, Bobsleigh and Luge.  Jamaica stole the show with Gold medal victories in Doubles Figure Skating and Curling. Despite a dramatic win for Italy in the epic slip-and-slide Bobsleigh, Jamaica was crowned the first Echo Lake Winter Olympics Champions.  With Chipwiches, popcorn and Cool Runnings to round things out, it was an all-around 'chill' day in Senior Village.
TRIP DAY
For the first time this summer, all of Senior Village headed out together to The Great Escape for an action-packed day of rides, games and candy.  There's a reason that they don't just call it the 'good escape' after all.  With the Alpine Bodsled, Boomerang, Canyon Blaster, Comet, Extreme Supernova, Raging River, Sasquatch, Skycoaster, Steamin Demon, games, fast food and candy, it's safe to say that our Senior Village campers were very happy!  We will be heading to The Great Escape one more time this summer.  Our second visit will be spent in the water park.
VISITING DAY
While Main Camp experiences a stampede of parents thundering across the baseball field, we witness a slightly more reserved entrance of our parents as they enter the Senior Village.  It's always an amazing day seeing so many happy families and smiling faces.  Luckily, the expected rain held off and the sun came out.
HALLOWEEN
Directly following Visiting Day, our Lower Village campers run Halloween for the Main Village campers.  This is not only a great way to use up all of the candy from Visiting Day; it's also a great leadership opportunity for our Lower Villagers.  For the first time in Echo Lake history, Halloween was located in the Senior Village.  Each Main Village group followed a haunted trail around to haunted Lower Village bunks.  Campers had the opportunity to win even more candy through a variety of fun Halloween games.
AUCTION PRIZES
We witnessed some of our auction prizes go for big "bucks" last Sunday.  Big money was spent by the Lower Village Boys East on an XBOX NBA '06 LIVE tournament and on the mystery prize (where the group picked the ZOINKS prize out the hat…helping to clean Northwestern, oops!!)  The Upper Village Girls East bet really big on the best prize in the Village…chocolate milk and cookies with Brenda in her cabin.
LINE-UP
Let's get ready to RUMBLE!!!!  Tony Stein vs Emily Stein in Water Wars!  This epic matchup drew a huge crowd and big Village money to line-up this Sunday morning.  Stein vs Stein, the match-up of all line-up match-ups!  With a dreaded Fuzzy card in each deck, the match-up started off fairly even, with Tony and Emily going cup for cup.  In the fourth round, Tony pulled out the all-conquering, game-ending Fuzzy card, leaving Emily with the remaining cups, a pitcher and full igloo of ice cold water dumped over her head. BRRRR!!
ICE HOCKEY
We truly believe in always striving for better in everything that we do here at Echo Lake.  We have added some great new program additions this year in Stem and The Rock Wall.  We've also had the opportunity to really expand our Hockey program this summer, thanks to the experience and expertise of our Hockey Head Specialist, Dan Bedard. For the first time ever, we're offering Ice Hockey as a program option.  Campers have the opportunity for three hours of ice time each week.  This has proven to be a huge success with some of our Senior Village campers, who are loving their time on the ice!
THE WEEK AHEAD
This coming week, we send our Upper Village campers off for five days in Boston and Cape Cod, while our Lower Villagers welcome Project Morry campers for three days of awesome collaboration on Music, Art and Blogging projects.  Our Lower Villagers will then head out to Putt-Putt, Laser Tag and Martha's Ice Cream!
"Sunscreen, Water Bottles, WHO ARE WE? THE VILLAGE!"