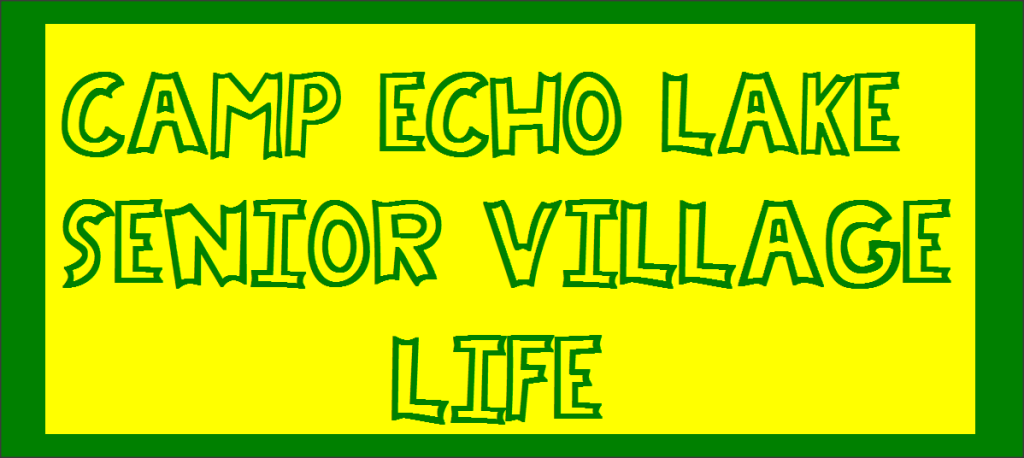 SENIOR VILLAGE BOYS HEAD COUNSELOR – JON "JOB" O'BRIEN
SENIOR VILLAGE GIRLS HEAD COUNSELOR – KERSTI HASKELL
"Who are we? THE VILLAGE!!"
What another awesome week in the Senior Village!  The weather has been amazing (maybe a little too hot at times), but we have finally been able to hit our stride. Activities are going great and the SV campers are having a blast!
GROUP SING & FIREWORKS
On Tuesday night, each group had the opportunity to perform during Group Sing.  Each group was tasked with adjusting a song (or songs) and replacing the lyrics with Echo Lake-related lines.  In the Senior Village & LIT division this year, the Upper Village Girls finished 2nd, being pipped at the post by the LITs and an inspired piece of tuba playing.  Directly after Group Sing, the entire camp made their way to the Echo Lake beach to watch a truly amazing fireworks display.  Every year it just gets bigger and better!!
4N4 TRIPS 1 & 2 DEPART
Both of our 4n4 trips have now departed for 28 of the most incredible, fun-filled, life-changing and adventurous days out west!  4n4 Trip 1 departed early Friday morning and 4n4 Trip 2 departed very early this morning.  It's always sad to see each trip leave.  We'll miss their amazing spirit, energy and leadership, although we're so excited for them to experience the trip of a lifetime with their best friends!
TRIP DAY
This week, our Senior Village Boys headed to Rogers Beach in Bolton Landing and our Senior Village Girls also headed to Bolton Landing to for a day at Veteran's beach.
BOYS – ROGERS BEACH
We decided to try out a new beach location this week – the beautiful Rogers Beach located right in the heart of Bolton Landing.  While the sun decided not to come out, the boys still had an amazing time, swimming, playing basketball, RampShot and Frisbee.  We also had the chance to go to Ben & Jerry's and a candy shop as part of the trip.  It's safe to say that the boys are thoroughly enjoying the perks of Senior VIllage life.
GIRLS – VETERAN'S BEACH
The ladies of Senior Village headed to Veteran's Beach this week in Bolton Landing, where they were able to enjoy the beach, playing volleyball in the sand and then getting ice cream from Stewart's.  The girls loved the amount of activities that they could do at Veteran's Beach, and of course, were thrilled that they were able to head to Stewart's for ice cream.  Even though it started to rain in the afternoon, we all had a great time!
LINE UP
With line up in full swing, the groups have been able to bet their hard earned (through bunk clean up) Village Dollars on the outcomes of each game.  Every Sunday, each Senior Village group then has the opportunity to use the Village Dollars to place bids on an array of prizes. This year, we have adjusted our auction process, using a silent auction style.  Groups can bid on prizes such as: TV/movie in The Lodge, bedtime stories with Brenda (including chocolate milk and cookies), and basketball under the lights (to name but a few).  The new auction process resulted in some interesting prices for prizes.  Do you risk it and bid small, aiming to snatch a great prize at a cheap price, or do you bet big, increasing your chances of winning the item, although potentially significantly overpaying?  The decision is in the hands of each group.
TRIBAL
Every Sunday, our campers compete in a different Tribal activity.  This week's event was Group Games.  The Iroquois and Mohawk teams went head-to-head by group, competing in various activities including: basketball, volleyball and Ultimate Frisbee.
OTB
A favorite event with our Senior Village campers is Off Track Betting (OTB), which gives groups the chance to bet Village Dollars on a variety of head-to-head staff challenges…cleaning lines, Extreme Basketball and Space Hopper relays (to name a few).  The Lower Village Boys East came out on top, turning their $400 of Village Bucks into an impressive $2000 to spend at this week's prize auction.
THE WEEK AHEAD
What a week with have in store for the Senior Village!  If last week was amazing, this coming week will be out of this world.  We have our second Special day coming up this week (with a colder seasonal theme) hopefully allowing the Senior Village campers to cool off in this heatwave, followed by our first of two visits to The Great Escape and Visiting Day coming up this Saturday!
"Sunscreen, Water Bottles, WHO ARE WE? THE VILLAGE!"