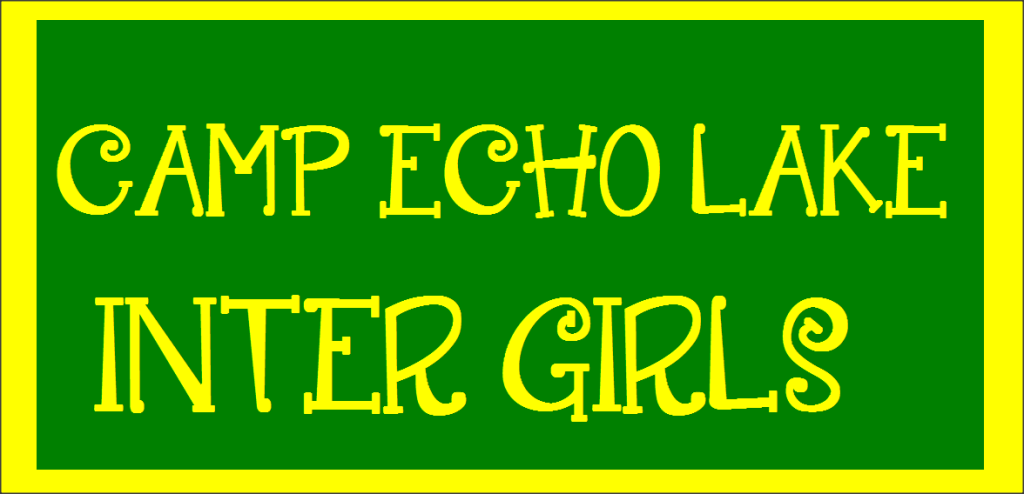 INTER GIRLS HEAD COUNSELOR – Ally Begly
FAME
Fame was an incredible show!  The Upper Inters worked really hard to pull everything together, and had a great venue in which to show off their many talents.  I was blown away by the level of singing, dancing, and acting.  It's crazy to think they accomplished all of this in only 2 weeks!
PUTT-PUTT GOLF
Put-put was awesome event as well.  In addition to showing great Echo Lake citizenship and spirit, the Upper Inters had lots of fun and opportunities to socialize.
OTB (Off Track Betting)
OTB is always a camp favorite.  Campers bet on various pre-taped races between head staff members.  There were lots of risky bets, but also some great payoffs!
TRIBAL TUG AND GROUP GAMES
It's always fun to see the first Tribal events of the season.  Everyone from the Frosh to the LITs have shown incredible spirit (the Inters were certainly no exception).  Everyone gathered Monday evening on the beach for Tribal Tug.  This Sunday's Tribal event was Group Games.  Even though the weather was hot, there was still some excellent competition between the Upper Inters (soccer) and Lower Inters (kickball).
INTER-CAMP
Congrats to the Girls 7U soccer team for winning the soccer tournament held at Echo Lake this past week!
SEIZING THE DAY
I think that everyone has really hit their stride at camp.  We're now all used to the schedule and all of the events and opportunities that are packed into a camp day.  The summer already seems like it's flying by, so I've been encouraging the campers and groups to make the most of each day here at camp.  Each day presents the opportunity to develop both friendships and skills.  Whenever I'm out and about around camp, I see the Inter girls really taking advantage of everything that Echo Lake has to offer.
COMING UP
World Cup is today! The Inter Girls also have some exciting outdoor opportunities with TREK coming up, including: caving, biking, and hiking.  And of course, the countdown has already begun for Visiting Day!