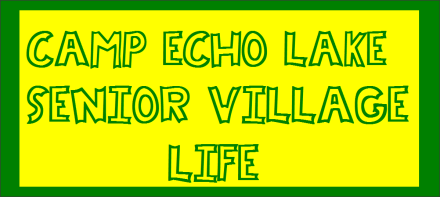 It's hard to believe that it was just 2 weeks ago that the busses were pulling through the gates and the 104 Senior Village girls came running off the busses with huge smiles on their faces, practically jumping into their friends and new counselors arms.
My name is Julie Zucker and I am the Senior Village Girls Head Counselor. It is my 15th summer at camp and I feel so lucky to be working with the Senior Village Girls this summer. In the past at Echo Lake, I have been a camper, a cabin specialist, a Group Leader, LIT Group Leader and last summer, I was the Inter Girls Head Counselor. It has been a really incredible experience moving up to the Village with the Lower Village Girls and reconnecting with the Upper Village Girls and 4n4 campers (who I was a GL for in 2013!). Every Saturday,  I will be giving an update on the "411" of the Senior Village Girls. The past 2 weeks have been packed with different activities from our Intro to Senior Village night, Group Sing, Hoe Down, Fireworks and of course, Tribal Break! I have been amazed so far with the Village Girls- everywhere they go they show enthusiasm, positivity and kindness. It is clear that we are all ready to make Summer 2018 the best one yet!
 In all the cabins this summer is a sign that says, "Be Nice. Try Hard." This phrase is the basis of everything we do at camp. We are kind, inclusive and helpful to each other. Julia Shirvan, an UVGW wisely said, "It's important to be nice to others because you never know what their going through."  Also at camp, we try hard at every activity, participate, and take risks every single day. Mia Rosner, also an UVGW, commented, "when you try hard at camp, you get the most of the experience. You don't know your true passion if you don't try." The Senior Village girls have been true role models of these two mottos. I am constantly impressed at their inclusivity with each other, engagement in activities and always bringing 110% effort into everything whether it be bunk clean up or evening activity.
 Over the past week, the Village girls stayed cool with a variety of different activities. We had "chill time" in the lodge, sprinkler fun, an extra trip day to Great Escape Indoor Water Park, extra swims and more! The Villagers really brought their energy and enthusiasm at Group Sing. Each group practically lit up the stage with their songs, choreographed dance routines, and spirit. Group Sing is always one of my favorite camp activities because it is something that truly bonds the group together and they will remember for years to come. I told some of the girls that I still remember my Lower Village and Upper Village group sings even though it was over 10 years ago!
 This morning and this past Wednesday, we said goodbye to 4n4. They brought a vivacious spirit to the village and they will surely be missed.  The summer is already flying by and I wish we could press pause so the summer doesn't pass before our eyes. Here's to an awesome summer!
 Love, Julie