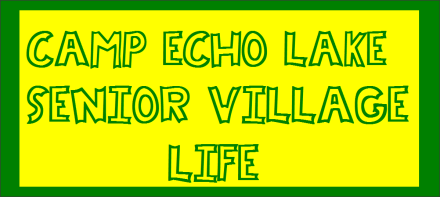 Wow! What a special week at Camp!  We had many special activities such as Group Special Day, a trip to Great Escape, and of course, Visiting Day. One of the important camp values is connection. At camp, we value the importance of building connections with each other and the community. Connection means finding and seeing the good in each other. Connection means noticing someone who needs a little extra help and lending a hand. Connection means truly getting to know each other and acknowledging the unique strengths that each of us bring to the community.  From day 1 of the summer, the Senior Village girls have built, renewed and strengthened their connections with each other.
The activities that took place at camp this week allowed all of the Senior Village girls to continue to grow these connections within their groups and across the Senior Village. This summer, we decided to shake things up a bit! For the first time in Senior Village history, we hosted a "Group Special Day," which is similar to special day on Main Camp. Each group spent the day together doing a variety of special activities that were unique to that group. The LVGE spent the morning tie dying, followed by cake decorating and more. The LVGW were sent on a secret mission that actually turned out to be them "breaking into" the health center and rescuing one of their campers that was sick. The UVGE did yoga on the waterfront and then made chocolate fondue in a campfire. Meanwhile the UVGW made beautiful bracelets and did a slip n' slide. They day was extra special because it really allowed all group members (including staff) to be together for the day. In the Senior Village there are fewer moments where the group can all be together because of our elective based program… so this was a nice opportunity for all the groups!
Visiting Day is always one of the best days of the summer. It's such a special time for families and campers to reunite. It's also a unique opportunity for the staff to meet our campers families. One staff member felt that because of visiting day, they were able to get a little taste of her campers lives outside camp. Another felt really lucky to meet the wonderful people who raised such incredible kids.
As we look ahead to week 4 (omg! How is it week 4?!?) we have the Upper Villagers traveling to Cape Cod, Martha's Vineyard and Boston. Stew and I will each get to join them on the trip for part of the time. I'm so excited… the last time I was in Martha's Vineyard, I was an Upper Village girl in 2007.
Of course, during the trip, the girls will get to continue to build connections not just across their groups but also with the boys!
Meanwhile, the Lower Villagers will get to rule the village on their own. During this time, they will be participating in Spirit Week! The Spirit Week days are as follows: Manic Monday, Twin Tuesday, Wear Sports Wednesday, Tie Dye Thursday and Camp Spirit Friday. We know the Lower Villagers will bring their energy and enthusiasm all week long.
Looking forward to another amazing week!
Love,
Julie