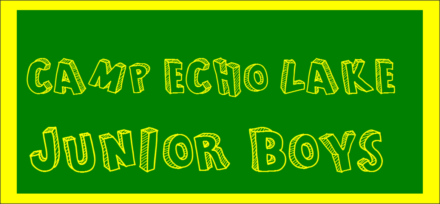 The Summer is rolling along at a great pace for the Junior Boys, with a fantastic and action packed week two in the books!

We braved the heat and change of schedule early in the week, but it all led to some very memorable days both for the entire camp, and for the Junior Boys. Early in the week, we went to the new Incredibles movie to get a break from the high temperatures, and we made the most of the lake, pool, and sprinklers all week long. We also had our first Upper Junior campfire, the season's first musical (Upper Inter Singing in the Rain), and the first ever Boys' Camp Quidditch World Cup! The highlight of the week was at group sing, when TRIBAL broke as Laurie was announcing the evening snacks. It was highly anticipated, but the Junior boys were rivaled only by the LITs in their excitement! The breaking of TRIBAL, of course, was followed by Tribal Tug, an event that went off without a hitch for the Junior Boys this year.
This week, I want to focus on a foundation that has truly flourished amongst our Junior Boys – Connection. Last week I talked about discovery and the importance to trying new things and pushing yourself at camp. As a result of the discovery efforts, I have seen campers begin to form more and deeper connections every day. "As Echo Lakers we believe in creating meaningful relationships, valuing each person in the community, respecting the individual, and including everyone in the group." This week, whether it was on the Quidditch pitch, in morning lineup roll calls, or during chicken wing dinner, the Junior Boys found countless was to reach out to each other and form deeper connections within our community. Additionally, even outside of our community, the Junior Boys represented Echo Lake with class and pride by saying please, thank you, and presenting a positive attitude in every situation. Sometimes it can be hard to stay motivated and connect when it is uncomfortable or hot, but the Boys really thrived this week and I am excited to see what is in store for the rest of the summer!
I will check in with you again next week after we go bowling, reveal the Tribal themes, participate in Halloween, and much more… including VISITING DAY!

Matt