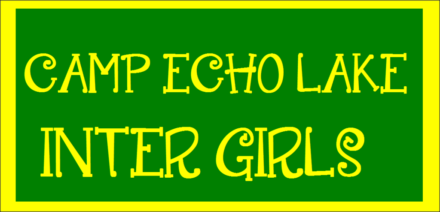 This week has proven to be as magical as all the others so far! In reflecting on the summer so far, it is sometimes hard to believe that we are able to pack in so much excitement and activity into the short amount of time we get to spend here at camp!
Girls camp special day was this week and boy, did we have a blast! We put on a classic field day where the girls got to pie a counselor in the face, learn a cheer, play slip and slide kickball, and water balloon tosses! In the afternoon, we watched High School Musical and sang along the entire movie! It was so special for the Junior and Inter girls to be combined for the day as one cohesive group to participate in the festivities together. Every team had campers from Frosh all the way to Upper Inters.
We've not only had tons of fun on camp, but we've gotten to venture off camp as well! We took our talents to the Fun Spot to play mini golf!  It was so awesome to see how incredibly respectful the Inter Girls were and how they behaved like total rockstars! Who knows? We may have to go on another trip since this one went so well! 🙂
Coming up this week is Apache Relay,  which is a Tribal event that we look forward to all summer long. It will be available to live stream on our website! We also have Carnival to look forward to. Perhaps best of all, the Lower Inter show is this weekend! Those participating have been spending countless hours rehearsing and preparing for the big show!
Stay tuned to hear about our week on the next blog! It's hard to believe that we only have two full weeks of camp left. I know one thing is for sure, the Inter Girls are going to make the most of every moment!
Until then,
Casey