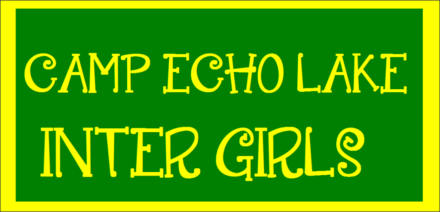 And just like that, the summer is coming to a close. In reflecting on everything that the Inter Girls have had the opportunity to accomplish and experience, I can't help but feel certain that each and every camper has been changed for the better. Isn't that what camp is all about? There is no better place on earth to come and expand your comfort zone, meet new people, and learn more about yourself!
We have run our hearts out at the color run, ate more candy than we probably should have at the Great Escape, watched Mighty Ducks with the whole camp under the stars, and got to cheer on our counselors during counselor cabaret. Each and every day is jam packed with another special program designed specifically to bring our community together and help remind us how lucky we all are to have spent our summer at camp!
Even though we know that our days left are numbered, we want to thank our loved ones at home who made it possible for us to experience the joys of summer camp. We realize how fortunate we are to call Echo Lake home for 7 weeks each summer. This has been a journey we will never forget, and we feel abundantly grateful for the memories and friendships that we've made.
With the remaining days left of camp, we are going to savor every moment. There is still so much planned for us to do such as sachem, tribal sing, the end of the summer campfire, camp party, etc. It is safe to say that summer 2018 has been unforgettable!
Be sure to check out how awesome we are on the camp website!
XO,
Casey