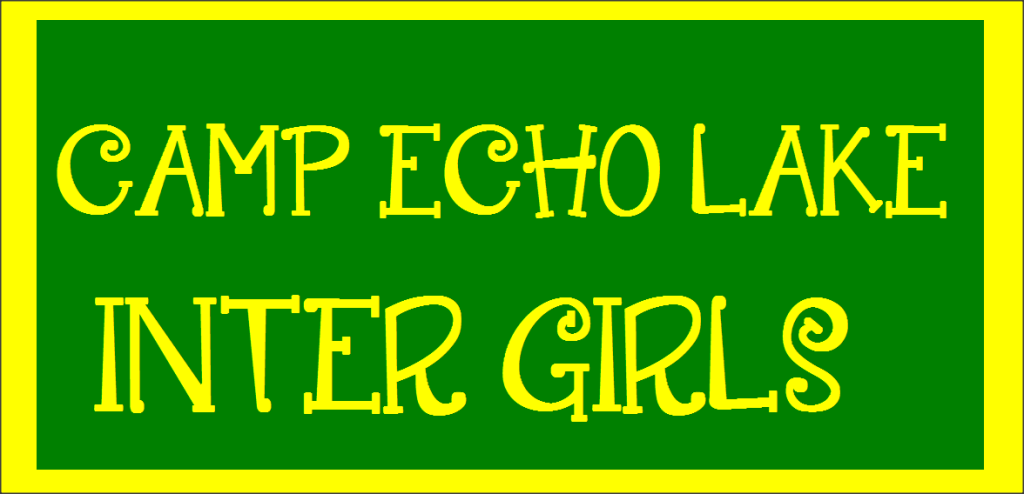 INTER GIRLS HEAD COUNSELOR – Ally Begly
INTERS SPECIAL DAY
This Inters Special Day took place this past week, which is something that the campers always look forward to each summer.  The counselors planned an AMAZING Special Day for the girls, filled with lots of fun activities.
Some groups just had a general fun day, while others did a day in line with their theme for the summer.  The Upper Inter Girls East had a Mission Impossible Day and the Upper Inter Girls West just went for fun and threw their counselor a bat mitzvah.
The activities for the day included: movies, chipwiches, various art activities and group bonding activities.  In addition to these activities, the girls enjoyed Sprinkler Torpedo and paint fights.
Sprinkler Torpedo is when we bring out mats from the gymnastics pavilion and put them on the lower soccer field. They make an obstacle course using these mats under the sprinklers.  And, the girls loved getting wild and crazy, never giving a second thought to jumping right in and getting messy during the paint fights.
One of my favorite parts of Special Day is that it brings the group together in a meaningful way, and is such an excellent bonding opportunity for counselors and campers alike.
The incredible effort that the counselors put in to make this day truly special was appreciated by the girls, who showed an attitude of gratitude as they thanked the counselors for an awesome day of fun.
GIRLS' CAMP SPECIAL DAY – SAVE OFF WITH YOUR HAIR
Girls' Camp Special Day was based on this summer's lineup theme – OFF WITH YOUR HAIR.  The back story goes as follows…
The summer began with lineup hosted by three characters:  Babs, a vacant Southern belle (Kelly Godzac), Rhonda, a failed graduate student with a PhD of questionable utility in Viking existentialism (Ally Begly), and Gheri, a perennially unsuccessful and terminally delusional actor (Harrison Lehrman). They've all decided to return to the Warrensburg Strip Mall to run the family business, a salon and sometimes petting zoo/lemonade stand called OFF WITH YOUR HAIR.
They opened their shop right next to Girls' Camp in the hopes that they'll be able to make a profit cutting campers' hair.  The big issue arises when Chet Cutnam (Corey Begly) – the CEO of SuperCuts and part-time Lodge employee – comes to town and threatens to buy out OFF WITH YOUR HAIR and turn it into a SuperCuts, which is very a troubling possibility.
Chet routinely comes to lineup and threatens to give every single girl on Girls' Camp a mullet.  Chet routinely shows up two to three times a week, eats breakfast food in an incredibly sloppy manner, and makes vague threats to buy us out.
However, Sunday, July 26, was a different day. On this day, Chet came down the hill and announced that Girls' Camp had to come up with $10,000 by Monday, July 27, or else OFF WITH YOUR HAIR would have its doors forcibly shuttered.  Gheri, Rhonda, and Babs were scrambling. They had only $.25 in the bank, and were fading fast after several unsuccessful business ventures.
All of Girls' Camp spent Monday playing fun games and completing tasks at the various "stores" around the strip mall.  The stores included an arcade which featured human foosball and human whack-a-mole (both of which are essentially life-sized versions of these classic arcade games), a fortune telling center, a self-help book store, and an arts & crafts store.
At each station, girls had the opportunity to earn money for spirit, competition, and general attitude. At 1:15 PM we all met outside The Lodge and counted up the money from the morning.  Unfortunately, we came up short…one cent short to be exact.  In a serendipitous (and not-at-all coincidental) turn of events, we happened to find that The Lodge was not in fact a lodge, but a movie theater for sale!  The girls used their money to "buy" the movie theater (which luckily came with chipwiches).  We enjoyed an afternoon showing of It Takes Two, a classic Olsen twins movie that was a real crowd-pleaser for all ages.
The girls really enjoyed the opportunity to experience camp in a different light.  They got to travel to seldom-seen places like the Begly backyard and Laurie's porch in an effort to raise money for their favorite salon, OFF WITH YOUR HAIR.
The day ended with a giant pool party, which was an absolute blast!
TRIBAL EVENTS
TRACK
The girls participated in track events or field events (base running, softball throw, etc.).  Although it was a very hot day, all of the girls put their best foot forward and gave 100%.  The LITs did a phenomenal job organizing the event.  Thankfully, we were rewarded with a nice swim in the afternoon!
TRIBAL SWIM
The girls competed in numerous swim events ranging from freestyle races to challenging events like the lifejacket relay.  On a hot day, everyone was happy to be in the pool competing in the events.  Some of the more exciting moments took place during the closely contested relay races.
INTER ARTS
Like the rest of camp, the Inter Girls enjoyed a really entertaining show that highlighted the originality of the LITs.  Creativity and originality are encouraged at Echo Lake, so this is always a fun event showcasing the talents of the LITs.  The dances are always a crowd favorite.
MINUTE TO WIN IT
The Inters played a game called Minute to Win It during an evening program this past week, which is based upon a once-popular TV show where ostensibly simple tasks had to be completed in under a minute.  Each group was given a mini game to play.  For example, the Lower Inter Girls West had to bounce ping pong balls onto sunbutter sandwiches while sitting on a bench. The first camper to complete the task advanced to the final all-camp round, which will take place in the near future.
COMING UP
Some inter-camps coming up for Upper Inters
Lower Inter campfire
Upper Inter Girls East Regatta
Upper Inter Girls West – silks (a fun new gymnastics activity)