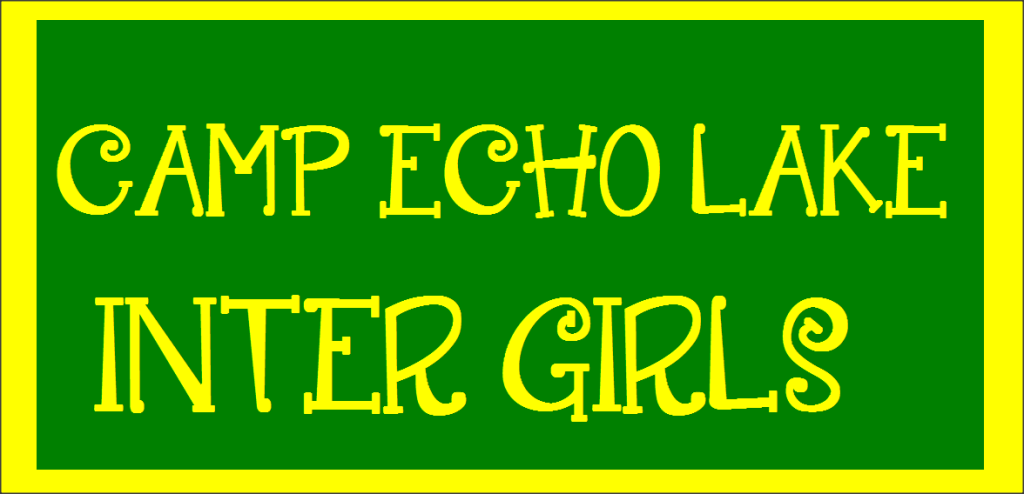 INTER GIRLS HEAD COUNSELOR – Ally Begly
VISITING DAY
This week was a busy one for the Inter Girls, with Visiting Day being the most special day of them all!  It was so nice to see all of the love between parents and kids.  I really enjoyed having the opportunity to speak with parents and listen to the campers tell them all about their summer so far.
HALLOWEEN / TORCH LIGHTING
Halloween and Torch Lighting took place on Saturday night.  These are two wonderful camp traditions – one newer (Halloween) and one older (Torch Lighting) – that are both very meaningful.
I loved seeing all of the creative costumes on Halloween.  Campers and staff were both really into the entire event, and even though I didn't think it'd be possible to eat any more candy…it was!
Torch Lighting is an old favorite.  I always get goosebumps every time that I see the torch bearers and hear the introduction of the Tribal themes.  This year's themes are Mt. Everest and the Grand Canyon.  I can't wait to see what the plaques will look like.  It was an awesome end to a very special day.
EMBRACING THE POSITIVE
We've really been focused on ramping up the fun for the Inter Girls.  I say an iteration of this pretty much every week, but time goes fast at camp, so it's important to pack all of the opportunities that we can into each day.  Each activity period or group session represents a chance to try something new and challenge oneself.  Whenever I'm out with the groups, I try to mirror the enthusiasm of the campers and staff.  Having a positive attitude really makes all the difference, and I think that all of the girls and Inter staff members know this!
PUTT-PUTT GOLF
The Lower Inter Girls went off camp to putt-putt this past week.  Although we had a bit of a traffic jam on the way there, we had a blast once we arrived at the course.  We got to try a new course at Pirate's Cove this year.  It was fun to play an old favorite in a new location.
COMING UP
Challenge Night and the Junior Show.
I've been working with all of the counselors to incorporate fun, spontaneous events into the Inter Girls' calendar.  The staff wants to make sure that the second half of the summer is as much fun as possible for the kids.  I don't want to give too much away on this recap, but Kelly and I are hard at work planning some special events and surprises… 🙂