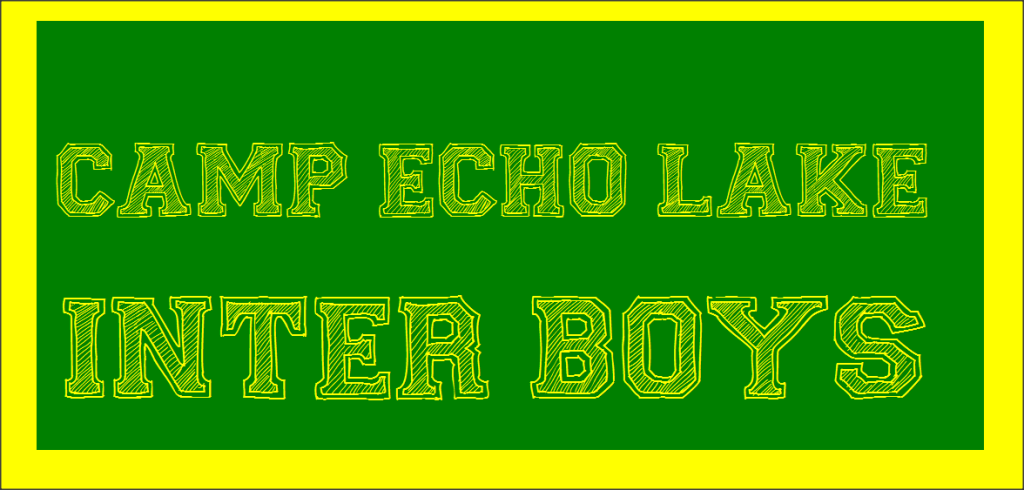 INTER BOYS HEAD COUNSELOR – Matt LeMoine
This was a packed week for the Inter Boys with inter- camps and all-camp events.  While there were not very many activities or events exclusively for the inter boys this past week, this coming week holds many surprises for the boys (Upper Inter bowling to Boys Camp Special Day).
TRIBAL BREAK!
This week began with Camp Echo Lake's beloved hoe-down in the field house followed by a viewing of the women's World Cup finale.  But wait!  Instead of watching the World Cup, we actually broke TRIBAL!  The Inter boys were thrilled for Tribal to break.  It was a fun night that was followed by Tribal Tug the next day.
GROUP SING / FIREWORKS
Tuesday was Camp Echo Lake's 70th annual Group Sing. The Inter Boys had some excellent performances after working very hard as a group to write and practice their songs.
Following Group Sing, the entire camp went to the beach for an impressive fireworks display.
OTB (Off Track Betting)
On Wednesday, Main Village groups gathered together in the amphitheater to watch head staff members compete in various events in Echo Lake's version of Off Track Betting (OTB).  Unfortunately, the Inter Boy groups put too much faith in the wrong head staff, and as a result, the UIBWs and LIBs were bankrupt before the event finished.  The UIBE, however, played it smart and won 1400 "Echo Lake Bucks."
INTER-CAMP
Some of the Inter Boys went to a tennis tournament at BACO.  Both the UIBs and LIBs took their talents to South Woods, winning their basketball, soccer and baseball games.  On Wednesday, the UIBs went to Walden for another successful inter-camp; the LIBs emerged victorious in the Walden basketball tournament.
Finally, one new addition to the inter-camp program this summer is lacrosse.  The Inter Boys fell to the Glens Falls Bears 7-4, but it was an excellent game and a great time for all involved.
"BECAUSE I SAID I WOULD"
This week Patrick McNeece (Junior Boys Head Counselor) and I began a new initiative called "Because I Said I Would."  We made blank white cards that say "Because I said I would" in order to teach the boys about the importance of keeping their promises.  After writing a promise on the card, the camper writing it will give the card to the camper that they have made a promise to, and will receive it back once the promise has been fulfilled.  At camp, we make promises, pacts and commitments all the time, and one of the most important things that campers and counselors can do is live up to their word.
COMING THIS WEEK
Upper Inter bowling trip, Boys Camp Special Day and VISITING DAY!