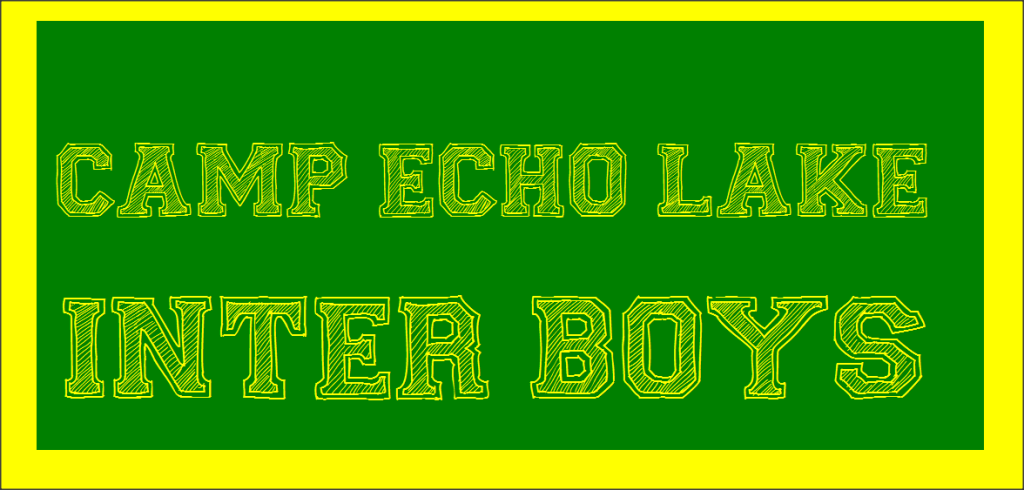 INTER BOYS HEAD COUNSELOR – MATT LEMOINE
RAISING MONEY FOR PROJECT MORRY
This past week, the entire camp participated in two events to help raise money for an excellent cause – Project Morry.  The first was a Swimathon.  During the allotted time period, the boys swam as many laps in the pool as they could.  Music playing during the event made things very lively.  The second event was a Marathon where the boys ran laps around camp.  This year's Marathon was a "Color Run."  As they ran laps, the boys were blasted with colorful powder.
ECHO LAKE DANCE COMPETITION
For the first time ever, Echo Lake held a camp-wide dance competition.  Campers from all age groups choreographed dance routines and performed in front of the entire camp.  The ten Inter Boys that participated in the event really enjoyed themselves.
MLB DAY & NCAA DAY
Nearly all the Inter boys competed this week in two sporting events – MLB Day and NCAA Day.  The boys really enjoyed the competition of the two events (baseball and basketball) against their peers.  This year's winners were the Mets (MLB Day) and the Duke Blue Devils (NCAA Day).
MINUTE TO WIN IT FINAL
Minute to Win It is an international game show where contestants take part in a series of 60-second challenges using common household items.  Each group sent a representative to the all-camp finals.  The Lower Inter Boys were the overall winners this summer.
TRIP TO GREAT ESCAPE
The Inter Boys enjoyed their trip to Great Escape, going on a lot of fun rides, played games and of course, ate a lot of food and treats.  It was a great day for all of the boys.
A LOOK BACK AT THE SUMMER OF 2015
It has been a fantastic summer for all of the Inter Boys this summer.  With only three groups, we were able to reach higher than many previous summers and participate in numerous events that were a lot of fun for the boys.
UPPER INTERS
The Upper Inters enjoyed our famous "glamping" trip.  For the first time in my Echo Lake career, we beat BACO and Brant Lake in basketball.  This group of boys took Main Camp by storm and leave behind a wonderful legacy of leadership, determination and positivity.
LOWER INTERS
I have never seen a transition into the Inter division as seamless as this year's Lower Inters.  In addition to their success during inter-camps, this was the first Echo Lake group to ever compete in an off-camp Lacrosse game.  To top it all off, this competitive bunch won two ice cream parties.  This group of 28 boys is the most exciting, energetic and happy that you could ever find.  They are the epitome of what we look for at Camp Echo Lake – diverse personalities blended together to form one incredibly bonded and influential group of campers.  These boys will be something special to watch next year as Upper Inters, and eventually as the 2020 LITs!
UPPER INTERS – "FACHEM"
"Fachem" is the Upper Inter version of the Sachem Tribal events.  This is something special that is done for the boys as they spend their last few days on Main Camp.  There will have a "Fachem" Tug at the beach followed by a basketball and soccer games.  Instead of the traditional green and gold, the boys will be divided up into blue and red teams.  The day ends with Echomania (an all-camp mock WWE event) and a walkthrough of Senior Village canteen.
UPPER INTER BOYS GRADUATION
With the summer winding down, the Upper Inter Boys are almost done with their time on Main Camp.  To commemorate the occasion, the boys participate in a graduation event which includes a Senior Village orientation to help prepare them for next summer.
COMING UP
Aside from the Upper Inter Graduation and Fachem events, this is a busy final week of camp for the boys – Sachem (LITs, 4n4, Upper Villagers compete in front of the entire camp), Tribal Sing (the final Tribal event), Reprise and Banquet.