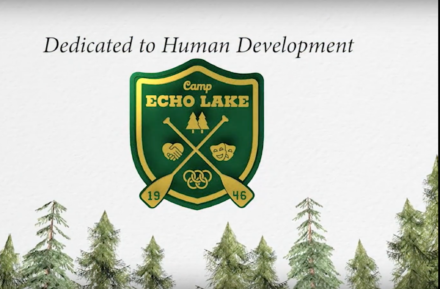 Echo Excellence: Group Sing, Fireworks, and Tribal
The Echo Lake community was decked out in red, white, and blue on Tuesday celebrating July 4th! It was a fun filled day with H2O, theatre, basketball, drama, inter camps, general swim, soccer, cooking, tennis, art, yoga, volleyball, archery, dance, STEM (Science Technology Engineering Math), golf, fitness, baseball, lacrosse, and all of our usual fun!
After the day's activities were complete, the entire camp joined at the Amphitheater for Group Sing. The Frosh Girls and Boys brought down the house with their amazing songs while holding hands, singing about being best friends forever, and of course "dabbing" at the end. The Junior Groups shined as well with song lyrics referencing "welcome to our bunk," "hugging it out," "Camp Echo Rock," "sticker trading, " wanting more fuzzies from Tony," "wanting more hugs from Laurie," etc. Some groups even had campers playing instruments showcasing how talented our campers are! The Inters song lyrics referenced "being friends forever," "Laurie's Canteen snack choices," "Tribal Break", and "living 10 for 2." Some groups included breakdancing and rapping. The Village had awesome attire showing their Camp spirit by wearing bracelets while referencing the Survivor theme this summer, making Amy proud with their clean lines, the 4 n 4 having the time of their lives on their trip, and making memories. The LITS were the last group of the night and they were decked out in green and gold with an emotional tune about Echo Lake being their summer home and taking advantage of every opportunity this summer. In the Frosh division, it was too close to call and was deemed a tie. The Lower Junior Girls took first place while the Upper Junior Girls (East and West combined) took runner up in the Junior Division. The Inter Group had the Lower Inter Girls in 1st place with the Upper Inter Boys West in a close second. Finally, the LITS (Leaders in Training) were victorious with the Upper Village Girls West in a close second. Although these were the official winners, every group was a winner with their amazing creativity, enthusiasm, teamwork, and positive attitude! Group Sing 2017 was a huge success and so much fun for the entire Echo Lake community!
After Group Sing, the kids changed into their pajamas and got ready for Fireworks at the Lake. It was the most gorgeous night with an incredible Fireworks display. We sat in amazement as we looked up at the sky! Once the finale was over, the kids started chanting "1,2,3,4 We want Tribal War" and their wishes came true. The I (Iroquois) and M (Mohawk) lit up and Tribal 2017 has begun! Green and Gold papers were falling from the sky and kids raced to find out what team they were on! Chieftains were announced in addition to all LIT Tribal Leaders. The hatches were pulled out and let the games begin!