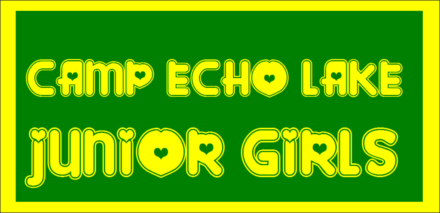 One of our beliefs at Camp Echo Lake is to help our campers and staff discover more about themselves and others.  There is no better place than camp to try a new activity, learn more about another person, or learn more about yourself.  Through our wide variety of programmatic experiences and our healthy social environment, we foster the spirit of exploration.  Below you will enjoy reading about some new things that the Junior Girls have discovered about themselves this week.
Each of the groups continue to "grow together" by learning more about each and every member of the group.  Through the guidance of their terrific, loving, and caring counselors they are learning how to work together, share, compromise, and connect.  They are learning to be flexible and adaptable to others' needs and be more open minded.  It is wonderful to watch the groups continue to evolve as the campers become more comfortable in their summer home and everyone continues to become more connected.
In addition, the campers have continued to discover the magic of camp.  They enjoyed a magical firework show on the fourth of July. They also watched Tribal Break as an I for Iroquois and M for Mohawk lit up across the lake and they competed in their first Tribal event.  It was awesome to watch them participate in the tradition of Tribal with spirit.
The Junior Girls are also continuing to discover more about themselves.  I watched the Junior Girls complete Sky Village (Arial Challenge Course), advance a swim level on their swim tests, dance on stage at FNL, decorate cookies during "Cookie Wars" and participate in inter camps for the first time.  It is great the see the motivation the girls exhibit to push themselves to try new things. Bravo!
Finally, on Tuesday Night, I watched the groups come together to participate in Group Sing.  Each group put on a wonderful performance by singing their own made up group song, which continues to help them form their own identity as a group.
This upcoming week we are ready for some more fun with the Junior Girls heading to Putt-Putt, an Upper Junior Campfire, and Girls' Camp World Cup.  I cannot wait to see the Junior Girls continue to discover all that Camp has to offer. We are having so much fun!!