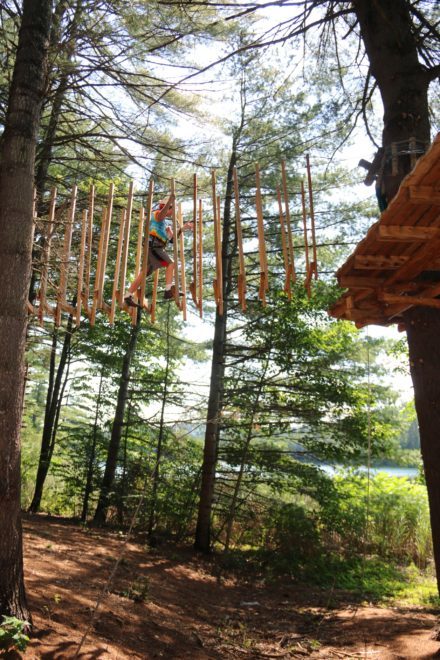 We've had an incredible start to camp this summer at the Lake! We are almost two weeks into camp, and our campers have already been bursting with energy and excitement as they try their hand at a variety of activities across camp. Our Outdoor program is specifically designed to give campers unique opportunities and experiences while also learning technical skills and focusing on personal and social development.
At camp, our boating program has campers kayaking, canoeing, and paddle boarding across the beautiful lake; some even took a dip in the process! A group of Senior Villagers have also enjoyed fishing, building rafts, and paddleboard yoga sessions for their afternoon "Team Awesome" activities. We've also seen lots of campers visit Loon Lake to learn to sail and waterski. It's been awesome!
There is not just adventure on the water, but also in the woods. Our Leaders in Training and both 4n4 trips found time to challenge themselves in Jason's Jungle (the high and low ropes adventure course). They focused on developing their leadership skills while taking part in a number of thought provoking and physically demanding activities. Many of the Main Camp and Senior Village groups have also been in the Jungle looking at ways to better work together as a team. Our ropes staff facilitate every session to help campers acknowledge their progress and encourage them to set goals for the future. What awesome life skills! You can also find our daring campers zipping through the trees on our custom-built Sky Village course and on the Zip Line too. So many amazing adventures here at Camp Echo Lake!
Our outdoor program includes many off- site trips, which are safely run by our Trek team.  We've already had 33 Trek trips pass through our gates ranging from Frosh all the way to 4n4! For our younger campers, the focus has been on having a great experience in nature while visiting a variety of locations to go hiking, tubing, swimming and exploring. As our campers grow, they have the opportunity to try more challenging activities such as rock climbing, mountain biking, caving and kayaking. Tomorrow our LITS will have their first Trek experience day where all 38 will take part in an extreme outdoor activity! We also have lots of campers signed up for our first overnight trips planned for Week 3 to a number of beautiful spots around the Adirondacks. We know the campers and staff can't wait to get out and explore more of the beauty around them.
It always impresses me how our campers are willing to push themselves out of their comfort zones and try new things. We've all got little things we find challenging such as a fear of heights, having to move around in small spaces, and/or swimming with your head under water, but, the beauty of camp is being able to recognize the things we find difficult and muster up the courage to try them anyway!  We learn something new about ourselves every day and the toughest choice is deciding what to challenge next! Looking forward to more adventures each day in the Outdoors!