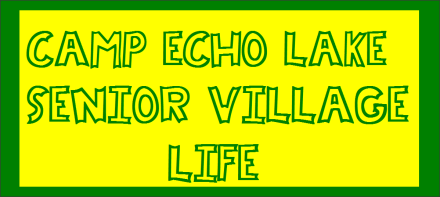 The Senior Village has been action packed with fun this week!
The Lower Village campers have quickly adjusted to their entirely elective based schedule. They have been to archery, music, lacrosse, drama, basketball, etc. They have also already gone on boating, hiking, and biking trips in the gorgeous surrounding area!
The Upper Village campers have truly been amazing positive role models for our Lower Villagers. With their first summer in the village under their belts, they have started to expand their comfort zones, and it has been such a pleasure to watch the tremendous growth from Lower to Upper Village! The energy and the enthusiastic tone of the Village have been up to par with the standards that Camp Echo Lake sets. We have seen campers reaching out to each another to form new connections and strengthen pre-existing ones. There have also been countless fuzzy nominations. Go Villagers!
Our theme this summer is Survivor! Each group has come together as a tribe for the summer. Each tribe has their own bandana color and spirit animal. Throughout the course of the summer, there will be countless events, relays, and activities all worth points. We're even including cabin cleanliness as point worthy! With the 4n4 campers leaving this week, we are trying to do as many activities as we can together before they leave on their incredible journey!
Despite some rainy weather, all of the campers and staff managed to stay active and maintain positive attitudes. We went bowling and mini golfing on our trip day, and next week, we are going to the Great Escape Water Park! Make sure to check out our website to see some of the awesome photos that will be posted. You don't want to miss them!!! Also, please don't forget to read next week's blog post about what the senior village is up to! You don't want to miss a minute of the fun happening in the Village at Echo Lake!