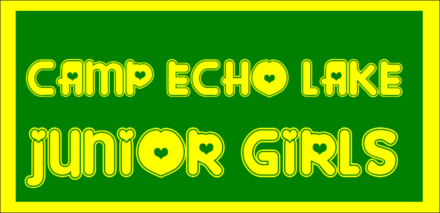 Junior Girls
I was so excited to greet the Junior Girls as they came bouncing off the bus last Saturday. I am Kelly Godzac, the Junior Girls Head Counselor. This is my 11th summer at Echo Lake and my 5th working with the Junior Girls. I will be sharing an update every week on the happenings in the Junior Girls Division. I am excited to share that the Junior Girls are off to an awesome start and already taking camp by storm. It is quite exciting to be able to watch old and new campers come together and witness new friendships form daily. The junior girls are adjusting to their new routines and learning what it means to be independent, all while getting to have a TON of new experiences and a TON of fun. What could be better than that?!  You can find out about all the happenings in the Junior Girls Division every single Sunday when a new blog article is posted! I am looking forward to all of the fun that is ahead for the Junior Girls this summer. Stay tuned!! 🙂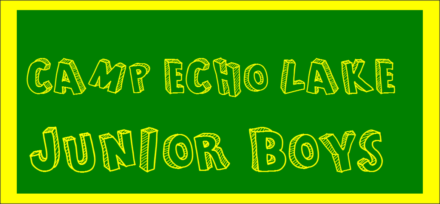 Junior Boys
We made it!! Another summer at the Lake has finally arrived and we could not have asked for a better start. The weather has been fantastic, the staff has been getting training and pumped up for the past week, and the campers have joined us at one of the most special places in the world…Camp Echo Lake! My name is Matt LeMoine and I am the Junior Boys Head Counselor. This is my 7th summer at camp and my 4th as a Head counselor. The Junior Boys have gotten off to a fantastic start at camp this summer! In just a few short days since the buses rolled in, everyone has started to hit their groove as we get settled into the camp routine. With their staff and Group Leaders (Jordan (FB), George (LJBE), Simon (LJBW), Will (UJBE), and Conor (UJBW)) the Junior division is looking primed to have one the best summers ever! I will be keeping you posted on all things Junior Boys over the course of the summer so please stay tuned for not only letters from your campers, but also fun blog posts and heavily featured junior groups on our summer website. See you soon!!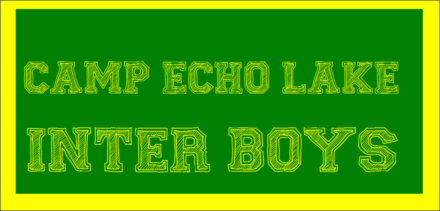 Inter Boys
The Inter Boys came steamrolling into camp with a great deal of enthusiasm on Saturday!!  This awesome group of young men are definitely finding their way as the older campers in Main Village.  My name is Nick Stoulig, but everyone calls me "Stew" here at camp!  This is my 17th summer working at Echo Lake, and I am eager to spend the summer with such a fun and exciting group of Inter campers.  It is great to see their passion for camp and the excitement they bring to activities daily.  Even though we have only been together for a short while, this group has already started to make some great memories that will help to define their summer.  We have kicked off our Boys Camp lineup with an awesome Rock Band Theme.  I encourage you to check out the pictures on the website, as I am sure that you will enjoy getting a glimpse of what your children get to experience.  I am looking forward to more amazing days as we kick off the 72nd summer here at Camp Echo Lake!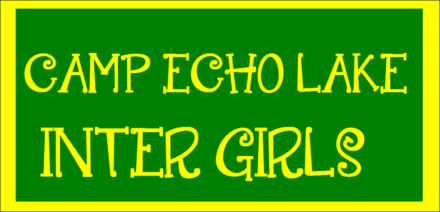 Inter Girls
Wow! It's hard to believe that we have only been at camp for 6 days as the Inter girls have really jumped right into the summer. Ever since the Inter girls practically leaped off the busses on Saturday, we have been full speed ahead. Whenever you see the Inter girls around camp, they radiate positivity, enthusiasm and spirit! My name is Julie Zucker and I am the Inter Girls Head Counselor. It is my 14th summer at camp and I am ecstatic to be working with the Inter girls this summer. I have been a camper, a cabin specialist, a Group Leader and a tour liaison at Echo Lake.  Every Monday, I will be giving an update on the "411" of the Inter Girls Division. The Inter girls have already set the tone of their group by performing at the Main Village Pep Rally on Monday night. The Lower Inter Girls shined as they did a cheer routine to "Brrr It's Cold in Here." While the Upper Inter Girls East brought their energy and creativity as they performed; the Upper Inter Girls West epitomized teamwork, resilience and enthusiasm as they sang a camper created song. I can't wait to see what is in store for the rest of the summer with the awesome Inter Girls. We are psyched to make Summer 2017 the best one yet!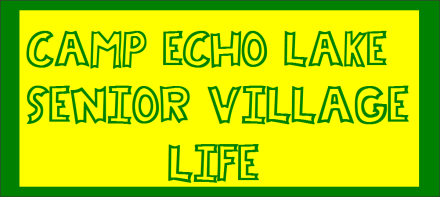 Senior Village Girls
The Senior Village campers came off the buses with the biggest smiles on their faces ready for their best summer yet! And then, there was me…also with the biggest smile on my face ready to greet this awesome group of campers! I am Casey Linder, the Senior Village Girls Head Counselor. This will be my 11th summer at camp and my 6th summer working in Senior Village. It is the incredible spirit and the vibrant heart of the village that keeps me coming back each summer. We recently had the kickoff to our village theme of the summer… Survivor! Each group was given a colored bandana and created their tribe name. Throughout the summer, we will be having events such as scavenger hunts, group games, and even cabin cleanliness checks! The lower village ladies have been adjusting beautifully to the schedule and are really embracing what it means to be a Senior Village Camper. The Upper Village and 4n4 girls have been such wonderful role models as our older campers, demonstrating what respect, dedication, support and friendship look like at camp. You can look forward to seeing some awesome photos of the event up on our website! I am confident that the spirit exhibited in these first few days will continue all summer long!
 Senior Village Boys
I was so excited to see the young men of the Senior Village pour out of the buses this year bristling with energy and beaming smiles.  My name is Cal Meyers, SV Boys Head Counselor, and I'm lucky enough to be back for my second summer in that role.  After spending four years on the 4n4 (two as Trip Leader) I was able to spend a whole summer at camp for the first time last year and loved it.  My Senior Village Girls counterpart (Casey Linder) and I will be publishing weekly blog posts detailing the variety of exciting happenings in the village.  We kicked off week one by ceremoniously revealing our Senior Village theme for the year…Survivor!  Each group came up with cheers and team names that will follow them throughout the summer.  The teamwork and cohesion we saw from all the groups was incredible!  Each group was wildly spirited and cheered on other groups as if it was their own.  It's already shaping up to be a great summer for the village!  I can't wait to see what the rest of Echo Lake 2017 brings!