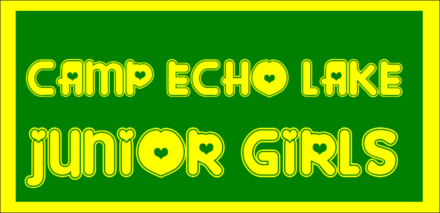 At Camp Echo Lake, we teach our counselors and campers to "build bridges, not walls," encouraging everyone in our Camp Echo Lake community to reach out and open themselves up to the many connections that can be fostered.  Developing a feeling of connection among a group is vital to the overall tone of the group as well as an individual camper's success.  I am happy to say that I have been a witness of some wonderful connections already being made this week among the Junior Girl groups.  The programmatic experiences offered within our first week of camp allowed the campers to get to better know their counselors, their group mates, and their peers in other groups, which has set the Junior Girls up for an incredible summer ahead!
On Sunday Night, the Junior Girls played a popular camp game called "The Mostest."  The campers were divided into teams and given a category. They had to send a representative from their group that best demonstrated that category.  For example, if the category was "hidden talent" the campers would decide who on their team had the best hidden talent and send them up to show the judges in order to earn points.  This game allowed our campers an opportunity to talk to each other and also learn more about each other.  It was fun to see campers open up, share a little about themselves, and step out of their comfort zones. It was a fun evening for all!
On Monday Night, the entire Main Village had a spirited night at our Main Camp Pep Rally.  Each group performed a song, dance, cheer, and/or skit that introduced their group to Main Camp. The Junior Girl groups did an excellent job representing themselves with their well performed cheers and songs.  It was obvious that a lot of teamwork went into their performances! Bravo!
Some of our Junior Girl groups went on their first TREK trips.  The Lower Junior Girls East had a great time tubing down the Hudson River while the Frosh Girls had an excellent time on their hike at Shelving Rock.  The other groups will have their trips coming up in the next week. Get psyched!
In addition to all of the fun, our Frosh and Lower Junior groups had their first campfire!  They received their official "s'more" orientation training which teaches the proper way to make a s'more, sang campfire songs, and even learned some of the history of Echo Lake.  It was a great experience that not only provided them an opportunity to become more connected to each other, but also to some of our special camp traditions. Tons of s'more fun is ahead!
Finally, it has been awesome to the see the Junior Girls trying new things together!  They have cheered each other on while taking their swim tests, auditioning for the Dance Team, auditioning for the play, and participating in a multitude of activities!  They are a fantastic group that give off a contagious positive energy.  When they all work together, there is no stopping them! Watch out!
The Junior Girl counselors have also done a fantastic job this week emphasizing the importance of connection by mixing up tables at meal times, finding specific moments for the East and West groups to hang out together, assigning swim buddies and assigning buddies for transition times.  They have also begun their nightly traditions with the campers such as doing a group "circle up" to end their day, reading them a story, or even singing them a lullaby.  Such happy campers!
As the summer continues, I know the campers will only continue to strengthen their connections with each other and their counselors.  We are truly lucky to have such sweet, caring, brave, smart, and spirited Junior Girls with us this summer, and I can't wait for all of us to continue to build bridges.